Vienna's High Flyers
In Vienna, people love nothing more than a good dance – in more formal styles at balls, and to a distinctly contemporary beat at dance festivals like ImPulsTanz. Even the beehives are rocking – honey bees famously use specific dance moves to relate information to each other about food sources in the area.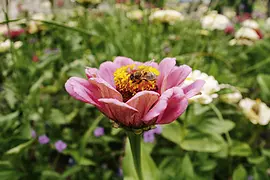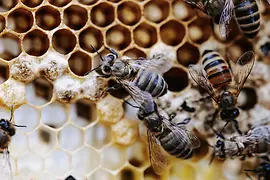 The bee dance was discovered by a Vienna-born researcher by the name of Karl von Frisch. No one knows whether he was himself a good dancer, but bees were definitely his great passion in life. In 1973 he was awarded the Nobel Prize in Physiology or Medicine for his pioneering research, along with Nikolaas Tinbergen and Konrad Lorenz.
But 200 years before that, bees had already captured the attention of none other than Maria Theresa, who founded the world's first beekeeping school in Vienna in 1769. To this day, a memorial plaque hangs in the Augarten commemorating her head beekeeper and rector of the beekeeping school, Anton Janša. Having World Bee Day on May 20 – his birthday – seemed like the obvious thing to do. And in 2018 the United Nations made it official, showing just how important these industrious creatures are for our ecosystem and the wider economy.
A city of 200 million
Bees are also important for Vienna. You could even say that they make a beeline for the city. And the capital is pulling out all the stops to ensure that they have the perfect habitat. What many people don't realize is that cities are great environments where bees can thrive, especially if they are as green as Vienna! The large proportion of the metropolitan area accounted for by green space (53%) and numerous greened roofs, leafy terraces and plant-filled balconies provide a rich source of food all year round. Around 700 beekeepers make the most of these ideal conditions – and up to 200 million bees buzz through the skies above the city's streets in summer.
The city plays its part by setting aside space for natural meadows in its parks and promoting organic farming. There are hives all over the city, including at the Hirschstetten flower gardens, Seestadt Aspern and even the Central Cemetery. The first district also has a number of colonies on top of high-profile locations including the Vienna State Opera, the Secession, the Kunsthistorisches Museum Vienna and City Hall.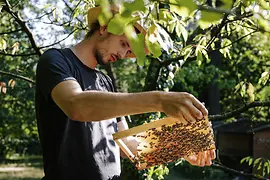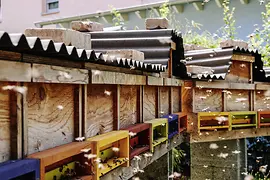 BEE HAPPY AT VILLA ERBSE
One way to find out about the fascinating lives of bees is to pay a visit to the Villa Erbse organic honey farm. Surrounded by old buildings with mature natural gardens, the house with its pea green facade (Erbse = pea, ed.) is located in the twenty-third district.
"One of the bees' main occupations is going out on reconnaissance missions in the surrounding area – they fly up to three kilometers, always on the look out for food," explains Martin Asche, beekeeper and owner of the Villa Erbse, in an interview with the Vienna Journal. Bees love nectar and pollen, which are in plentiful supply here. The great by-product of all this foraging is that they pollinate the fruit trees in the local area.
"You could say that I was born to be a beekeeper, as my father had several hives in his garden," Asche adds. His first swarm of bees flew to him by chance. Legally speaking, a colony that leaves its hive is treated as abandoned, provided no one is actually out looking for it, so he was allowed to keep the bees. He packed in his job as a barkeeper and became a beekeeper instead. "Bees and natural production are very important to us," the organic producer repeats on several occasions as he opens up one of the hives for us to take a closer look. And he's not wearing any protective gear either. "The only thing I don't like is if they get in my hair," the young apiarist tells us as he shows us the golden honeycomb. In the summer he is hard at work looking after his bees from first thing in the morning until last thing at night, or out harvesting honey from the 100-plus colonies that he has in Vienna and the surrounding area. A single hive can produce up to 30 kilos of honey each year.
His partner Verena Manyet is the bee manager, a job which involves preparing a colorful choice of honey treats for us to taste – the unusual varieties with berries and flowers taste outstanding.
We are just a couple of meters from the neighbor's house, but there's no need to worry as Asche's bees are not at all aggressive. And the gentle buzz and the scent of bees have a distinctly calming effect. Martin Asche explains that it is a mix of pheromones, honey and pollen aromas. Apis mellifera – the western honey bee – is a famously hardy and good-natured species, so we are able to get up very close and look at what's going on inside the hive while Martin Asche tells us more about his yellow and black charges. Unfortunately, it is time for us to go as the new day gets under way at 5 am, when these busy little bees fly off again in search of sustenance. An eternal cycle. And wherever there is food to be found, you can be sure that there will be dancing, too.
Text: Karoline Gasienica-Bryjak