© Leopold Museum, Wien / Manfred Thumberger
Art from clinics
Vienna flourished in the years around 1900 like almost no other city – painting, music, literature, and architecture blossomed. Yet Vienna around 1900 was also considered to be Europe's capital of clinical medicine. Artists like Egon Schiele (1890-1918) were in close dialog with specialist physicians, who acted as art collectors and clients at the time.
"The Body Electric" at the Leopold Museum shows works by Schiele and his companion and model Erwin Osen (1891-1970), which originated from this medical context. They enrich our understanding of Vienna Modernism and its art – art that was closely intertwined with clinical medicine. And give a whole new approach to the – supposedly – familiar.
Discover "The Body Electric" as a digital exhibition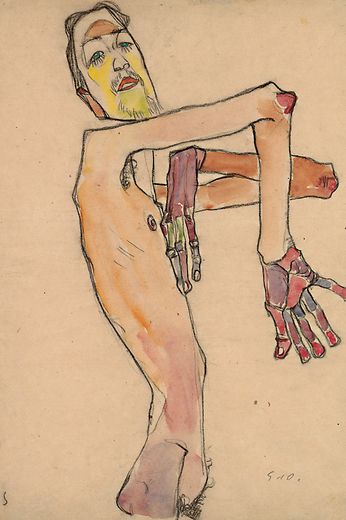 Electrifying context
Most of the works on display were created in Viennese hospitals. The exhibition is based on depictions of patients by Erwin Osen recently discovered in England; they were created during the First World War in the Viennese Garrison Hospital II, where he himself was treated as an in-patient. The Viennese doctor Stefan Jellinek commissioned the works – he carried out research into the use of electricity in medicine, and used electrotherapy to treat post-traumatic stress disorders in soldiers.
Osen began producing patient portraits in 1913 on behalf of the general practitioner Adolf Kornfeld in the Am Steinhof psychiatric clinic. Osen's works are juxtaposed against drawings by Egon Schiele. In 1910, in cooperation with the gynecologist Erwin von Graff, he created portraits of pregnant women and newborn babies in Women's Clinic II.
The Body Electric. Erwin Osen – Egon Schiele
April 16 – September 26, 2021
Leopold Museum
Museumsplatz 1

1070
Vienna

Your benefit with the Vienna City Card:

-14%

Additional information on the offer: Standard ticket price: 14€ Vienna City card holders are entitled to use the fast lane at the Leopold Museum

Mo, 10:00 - 18:00
We, 10:00 - 18:00
Th, 10:00 - 18:00
Fr, 10:00 - 18:00
Sa, 10:00 - 18:00
Su, 10:00 - 18:00
on holidays, 10:00 - 18:00

Main entrance

no steps (Doppelschwingtüre )

Car parks Main entrance

4 Parking spaces for people with disabilities
Parkplätze am Areal sind über die Haupteinfahrt / Ecke Volkstheater erreichbar

Elevator available
Further information

Wheelchair accessible restroom available.

Comments

Main entrance, access to all exhibition rooms and restaurant/café: no steps.

4 parking spaces for visitors with disabilities in the MuseumsQuartier area.

6 free parking spaces for visitors with special needs on the premises (access: Burggasse / Volkstheater) with proper identification and 4 parking spaces for visitors with special needs in the parking garage (basement level 2 next to elevator, access: main entrance Museumsplatz).