In hiding
Paintings, sculpture, photography, performance: we are used to encountering art under perfect lighting, in white rooms with high ceilings, and presented as part of an exhibition – with a theme, a golden thread connecting a selection of works. And the selection is usually made here, in the hidden recesses of the depot. Here, where thousands and thousands of works of art are stored, waiting to be rediscovered – or more than that, to finally see the light of day again.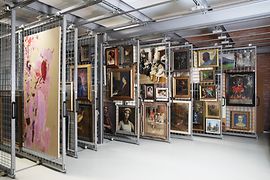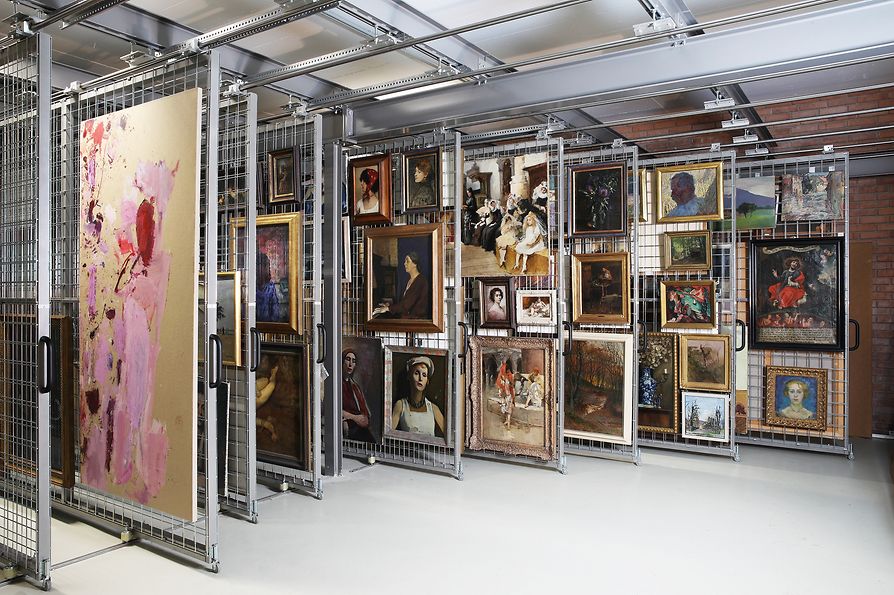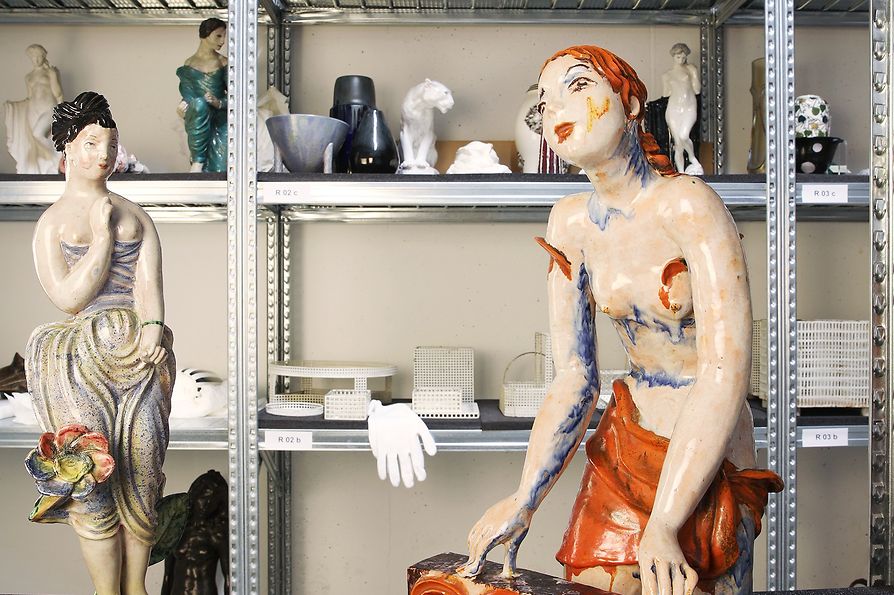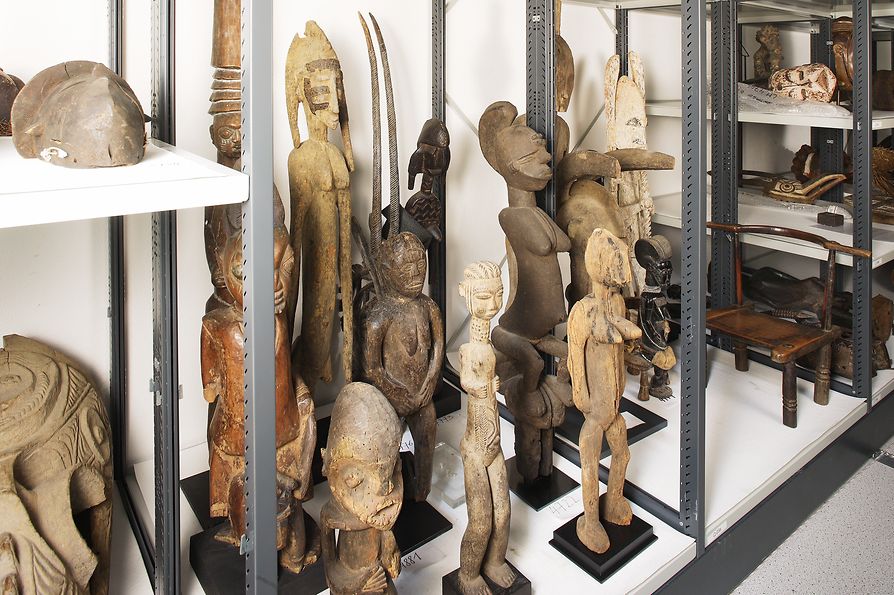 Newcomers rub shoulders with old masters. Abstract works hang next to Renaissance paintings. A diverse hodgepodge of collections in rooms that are kept at just the right temperature. To understand a bit more about the history of the art depot, it's worth taking a look at the past. Back in the day, when of course everything was different, the abundance of an entire collection was allowed to speak for itself. "More is more" was the watchword, and you showed what you had. So the museums proudly presented their treasured artworks from all over the world, densely packed, with little space between them.
Over time, not only did art itself change, but also the way artworks were hung and presented. Rooms became brighter, the number of works was reduced, and exhibitions were laid out over greater areas. Art should be able to breathe, allowed to make a statement, and experienced individually. This inevitably resulted in overcrowding in storage rooms, and along with it the realization that art storage facilities would become extremely important for the safekeeping and conservation of art, and invaluable for every collection.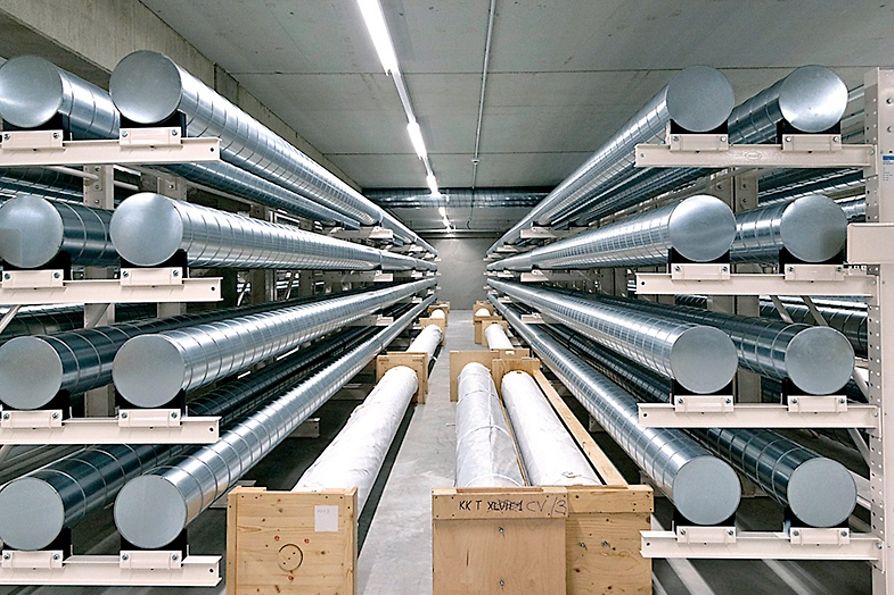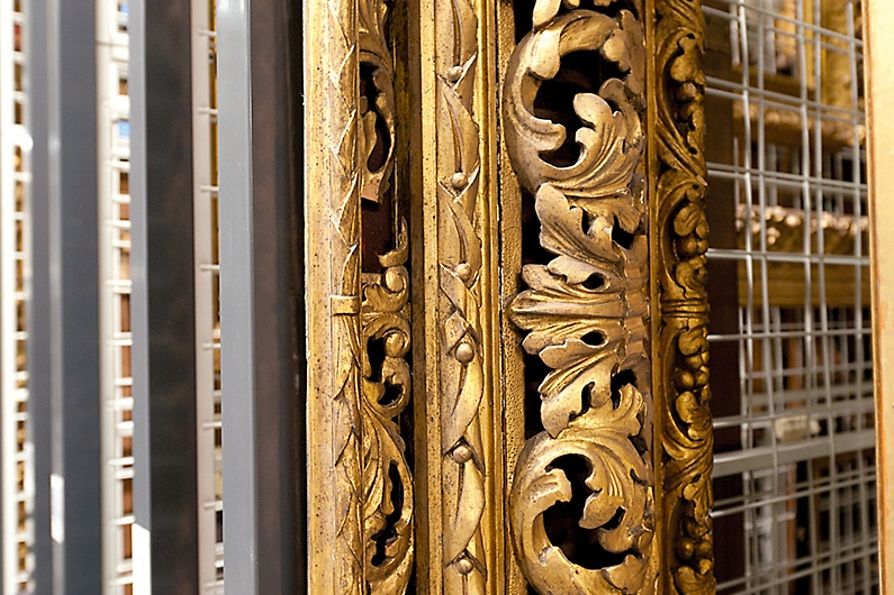 Preserving art
It's impossible to talk about art collection storage and not to talk about architecture – or, even better, sustainable construction – at the same time. Put simply, the depot has been transformed from the art storage room of the turn of the century into the high-tech laboratory of the 21st century. A place for storing art has become a location for research and science. The Kunsthistorisches Museum Vienna found the perfect place to store its own collection in 2011. Most of the museum's collection of close to four million objects is housed in its own stateof- the-art depot in Himberg near Vienna. In addition to rooms for restoration and research, nitrogen gas treatment, and quarantine, there is a dedicated photography room for making digital records of and researching the inventory. Ensuring optimal conditions for storing the artworks is the top priority – including the most important aspect of the depot: climate control. Worldwide, the most damage to conserved cultural artefacts is caused by the failure of modern building services, such as air conditioning.
It's all about the climate
In 2013 the Wien Museum's collection also found a new home on the outskirts of the city. Over a million objects are stored in around 12,000m² of space. Energy efficiency and sustainability are also a primary concern here. The depot makes use of concrete core activation: pipes are laid in the concrete ceiling in a dense grid, through which cold or hot water is pumped. The ceilings are cooled or heated up by the pipe system, storing the temperature (like in a storage heater), which diffuses slowly into the room. This slow-acting form of climate control provides ideal conditions for storing a wide range of different objects held in museum collections. The Wien Museum's extensive collection in particular has differing requirements in terms of climate control, as it covers everything from archeological artefacts to death masks, items of clothing, and contemporary art. The foundations for the art collection were laid in 1894 by Johann II, Prince of Liechtenstein. Today, over 120 years later, the Wien Museum's collection brings together painting, sculpture, architecture, installations, photography, and video art, spanning periods from the 14th century to the present.
Hidden dephts
The Leopold Museum is one of the few institutions whose storage space is integrated into the same building as the museum. Today more than 7,400 works are stored over five rooms inside the white shell limestone cube. Museum director Hans-Peter Wipplinger sees this space as providing much more than just storage. He is always being drawn to one corner or another: "For example, the furniture department. It contains pieces by Josef Hoffmann, Koloman Moser, and Joseph Urban that are not included in the permanent exhibition. Or the department for African and Oceanic art – its ethnographic pieces have a puzzling, poetic power." The works kept here originate from the collection of Rudolf and Elisabeth Leopold, who once lived surrounded by their art collection. This ranged from Biedermeier works and Austrian Stimmungsimpressionismus, to Secession and expressionist art, to New Objectivity. And the storage rooms have always served as a source of inspiration for new presentation concepts.
Keeping art in storage means keeping it hidden from people. And that is exactly what makes the art depots and the objects slumbering away inside them so fascinating, and so compelling.
Text: Julia Perkhofer
There are even more cool stories, exciting interviews, and curious tales about Vienna in the new Vienna, Intl.
Kunsthistorisches Museum (Art History Museum)
Maria-Theresien-Platz

1010
Vienna

Tu - Su, 10:00 - 18:00
Th, 10:00 - 21:00

Open daily from June to August

Main entrance

5 Steps (Doppelschwingtüre 300 cm wide)
on Maria-Theresien-Platz, no ramp

Side entrance


on Maria-Theresien-Platz, no ramp

Car parks Main entrance

5 Parking spaces for people with disabilities
on Heldenplatz

Elevator available
Further information

Wheelchair accessible restroom available.

Special offers for people with disabilities

Wheelchair rental possible (please reserve one day in advance). Guided tours for visitors with special needs as well as tactile tours for the blind and visually impaired on request (Tel. +43 1 525 24-5202). Three masterpieces of the Renaissance collection of the painting gallery, selected objects of the Kunstkammer, the Egyptian-Oriental collection and the collection of antiquities are available to the blind and visually impaired as castings for touching. A brochure with image descriptions of this in Braille is available. The Kunsthistorisches Museum offers workshops for people with dementia (Tel. +41 1 525 24-5202 or email: kunstvermittlung@khm.at) Wheelchair users who visit the museum via Burgring 5 can purchase their tickets at the shop in the lobby.

Comments

The museum is a place of encounter and sensory perception and offers plenty of opportunity to stimulate vistors and motivate them to interact with one another by looking at art together and then getting creative themselves.
Induction loop available at the audio guide stand.

http://www.khm.at/en/learn/kunstvermittlung/inclusive-art-education
Leopold Museum
Museumsplatz 1

1070
Vienna

Your benefit with the Vienna City Card:

-14%

Additional information on the offer: Standard ticket price: 14€ Vienna City card holders are entitled to use the fast lane at the Leopold Museum

Mo, 10:00 - 18:00
We, 10:00 - 18:00
Th, 10:00 - 18:00
Fr, 10:00 - 18:00
Sa, 10:00 - 18:00
Su, 10:00 - 18:00
on holidays, 10:00 - 18:00

Main entrance

no steps (Doppelschwingtüre )

Car parks Main entrance

4 Parking spaces for people with disabilities
Parkplätze am Areal sind über die Haupteinfahrt / Ecke Volkstheater erreichbar

Elevator available
Further information

Wheelchair accessible restroom available.

Comments

Main entrance, access to all exhibition rooms and restaurant/café: no steps.

4 parking spaces for visitors with disabilities in the MuseumsQuartier area.

6 free parking spaces for visitors with special needs on the premises (access: Burggasse / Volkstheater) with proper identification and 4 parking spaces for visitors with special needs in the parking garage (basement level 2 next to elevator, access: main entrance Museumsplatz).
Wien Museum MUSA
Felderstraße 6-8

1010
Vienna

Tu, 10:00 - 18:00
We, 10:00 - 18:00
Th, 10:00 - 18:00
Fr, 10:00 - 18:00
Sa, 10:00 - 18:00
Su, 10:00 - 18:00
on holidays, 10:00 - 18:00

Dec 24 and 31, 2019: 10 am-2 pm, Dec 25 and Jan 1: closed

Main entrance

no steps (Schwingtüre 130 cm wide)

Car parks Main entrance

4 Parking spaces for people with disabilities

Elevator available
Further information

Seeing eye dogs allowed
Wheelchair accessible restroom available.

Special offers for people with disabilities

All exhibition openings with sign-language translation, art education with sign-language translation on prior arrangement, induction loop for hearing impaired.