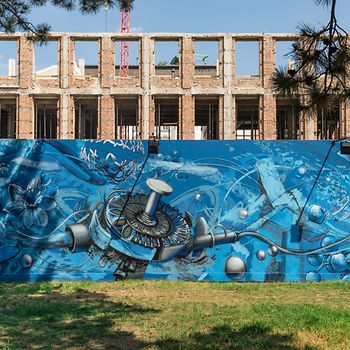 © Klaus Pichler
Open-air art in summer
Women architects, city planners, and city builders have influenced our urban living space hugely in the last 150 years: from creative impulses (for example, we have the Austrian architect Anna Popelka to thank for the famous Enzi seats in the MuseumsQuartier) to monumental buildings, squares, and bridges (Brooklyn Bridge in New York was opened in 1883 under the management of Emily Warren Roebling). They are two of 18 women to whose amazing work the open-air exhibition Frauen Bauen Stadt. The City Through a Female Lens is dedicated. Six positions can currently be viewed in Seestadt Aspern, the new city district in north-eastern Vienna, which is also setting new standards with the installation of female street names.
Art on fences and walls
Who are the "strangers" in our district? The portrait photographer and book author Aleksandra Pawloff, a Frenchwoman of Russian descent and at home in Vienna for many years, has photographed and surveyed residents of the 9th district who have roots around the world. The result: Fremd bin ich gekommen (I came here a stranger) – an exhibition along the Danube Canal, on the outsides of the ball cages in the vicinity of U4 station Rossauer Lände. It can be visited free of charge until the end of October.
Inside, they hammer and drill – outside there's still plenty of art. The construction fence around the Wien Museum Karlsplatz becomes a canvas for street art in summer 2021 and 2022. Under the motto Urban Natures, various artists deal with the interface between city and nature, development and countryside. And spraying on the "Wienerwand" wall, a part of the construction fence, is perfectly legal.
More street art awaits you at the Calle Libre Festival 2021. The eighth edition of the annual event goes ahead with its motto "RE:PRESENT". Throughout Vienna, you can watch artists at work, and numerous events such as workshops and panel discussions will take place.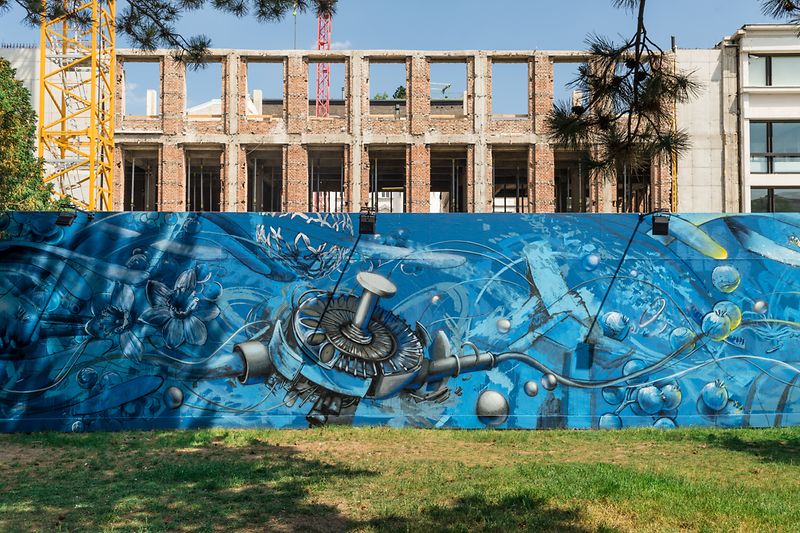 Gitti, Mona and Lisa
Open-air art is available in Vienna not only in the form of current exhibitions and initiatives. Other projects can be seen on a permanent basis. The association Stadtschrift has been working on the collection and conservation of historic inscriptions since 2012. No longer needed signs of Viennese stores are returning to the public space through "wall shows". Two of these shows can currently be viewed: 13 old signs from the food and service sector on Ludwig-Hirsch-Platz in the Karmeliter district, and a collection of women's names, some of which can be traced back to former shop owners (corner of Mollardgasse/Hofmühlgasse in the 6th district). Further projects are being planned.
Art on house walls – the Museum of Looking Up also deals with that. Vienna's façades are covered with paintings, mosaics, and much more besides. Photos are shared with the Looking Up community via Instagram. This way everyone can delight in public works of art and contribute to solving many a puzzle in everyday urban life with their personal background knowledge.