© WienTourismus/Christian Stemper
Vienna's Easter Markets
Due to Covid-19, the Easter Markets 2021 probably cannot take place. The Easter market in front of Schönbrunn Palace has already been cancelled.
The Easter market in front of Schönbrunn Palace is considered to be one of the most romantic Easter markets. In front of the backdrop of the palace, 70 exhibitors offer all sorts of culinary pleasures as well as decorative Easter decorations and handicrafts from Austria. Children have fun in the Easter Bunny workshop, where they shape marzipan bunnies and make Easter flower arrangements, on the Easter Nest Hunt and in the Schloss Schönbrunn Children's Museum, while the grown-ups enjoy the entertainment at "Jazz at the Easter Market".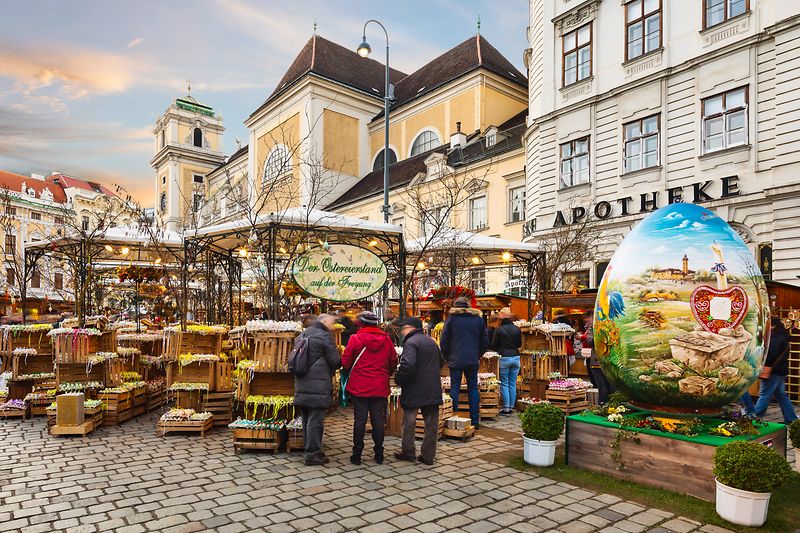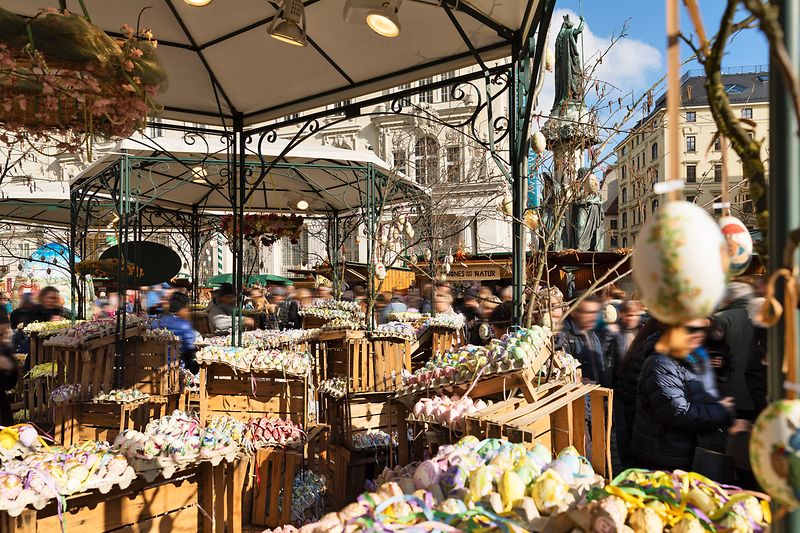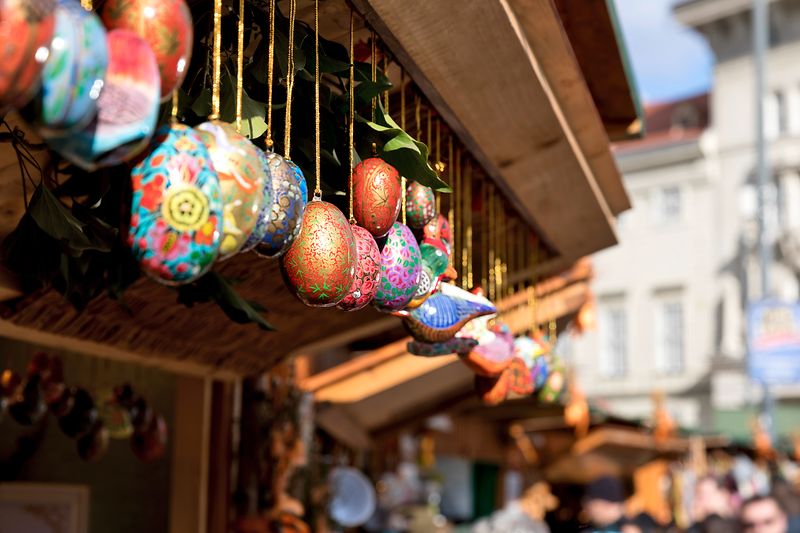 Every year, at the Old Viennese Easter market on Freyung, a pretty old square in the Old City, the biggest tower of eggs in Europe is built with around 40,000 painted Easter eggs. There are also numerous Easter specialties ranging from the Osterpinze Easter bread to the roast Easter lamb, handicrafts, floristry and for the very little ones a creative Easter workshop and a puppet theater.
The Am Hof Easter Market is also fully dedicated to Easter customs with skilfully decorated eggs and flower arrangements, and also offers pretty handicrafts as well as hearty food.
At the Kalvarienberg Festival, visitors can not only look for Easter gifts and art objects but also put their own creativity to the test at a range of different art workshops. Live music and a children's program provide additional entertainment.
Schönbrunn Palace Easter Market
March 28 - April 14, 2020, daily 10.00 am - 6.00 pm
www.ostermarkt.co.at
Schönbrunn Palace (Schloss Schönbrunn)
Schönbrunner Schlossstraße

1130
Vienna

Your benefit with the Vienna City Card:

-15%

Additional information on the offer: Standard classic ticket price: 28,5€incl. audio guide Preis Sisi Ticket/Grand Tour: 33€ instead of 36€

Main entrance
Car parks Main entrance

Parking spaces for people with disabilities
at main entrance portal (Schönbrunner Schlossstrasse, 3 parking spaces), Meidlinger Tor (2 parking spaces), close to Kavalierstrakt as well as Valerietrakt (2 parking spaces) and Fürstenstöckl (1 parking space)

Elevator available
Further information

Seeing eye dogs allowed
Wheelchair accessible restroom available.

Special offers for people with disabilities

Free wheelchair rental – contact attendant at main portal (3 wheelchairs) or at Hietzinger Tor and at Meidlinger Tor (1 wheelchair each). 
 Supplemental devices available for the visually impaired. Tours for visitors with with disabilities or special needs on request. 
 Museum Sign Language Guide available in ÖGS and IS for the Imperial or Grand Tour, prior reservation recommended, further information:
 https://www.schoenbrunn.at/en/visitor-information/barrier-free-access/

Comments

Access to all exhibition rooms: no steps. Freight elevator for extra wide wheelchairs: door width: 160 cm, cabin depth: 220 cm, cabin width: 156 cm.

Visitors' center in the Gardetrakt by the main gate, stepless access, door width: approx. 144 cm, wheelchair-accessible restroom can be reached by wheelchair platform lift – platform 110/140 cm, door width: 90 cm in the corridor area and 94 cm to the outdoors, accessible from outside with a Euro-Key.
Old Viennese Easter Market
March 27 - April 13, 2020, daily from 10.00 am to 7.30 pm
https://ostern.altwiener-markt.at
Freyung
Freyung

1010
Vienna

Am Hof Easter Market
March 27 to April 13, 2020, Mo-Th 11.00 am - 8.00 pm, Fr-Su & hols. 10.00 am - 8.00 pm
Food and drink until 9.00 pm
www.ostermarkt-hof.at
Am Hof Square
Am Hof

1010
Vienna

Kalvarienberg Festival
March 26 – April 13, 2020
Mo-Fr 10.00 am - 6.00 pm, Sa & Su 9.00 am - 6.00 pm
Live music, Th-Su from 2.00 pm
www.kalvarienbergfest.at
Kalvarienberg
Kalvarienberggasse

1170
Vienna