© KMG/Foto: Ingo Karnicnik
Art on the fringe
Vienna's excellent public transport network means it is possible to reach the city's outer districts in the shortest time. And it is well worth making the journey: more and more galleries and fringe venues are springing up outside the Gürtel ring road that encircles the inner districts. Current hotspot Die Schöne is located behind the Ottakringer brewery in the sixteenth district. On the first floor of an industrial building, close to 400 m² of floor space serves as a gallery, experimental space, workshop and studio. The Kunst ab Hinterhof platform has its shop on the ground floor, where visitors can buy up-andcoming contemporary art. The project's initiators, Sonja Gansberger and Florian Appelt, have no regrets about setting up in Ottakring: "We liked the location, as it is at a 'safe remove' from the established art scene, because we wanted to start something new and unconventional." The disadvantages do not cause a problem. "Not being just a hop away from the center supports creativity. And we make up for the lack of footfall with a number of initiatives."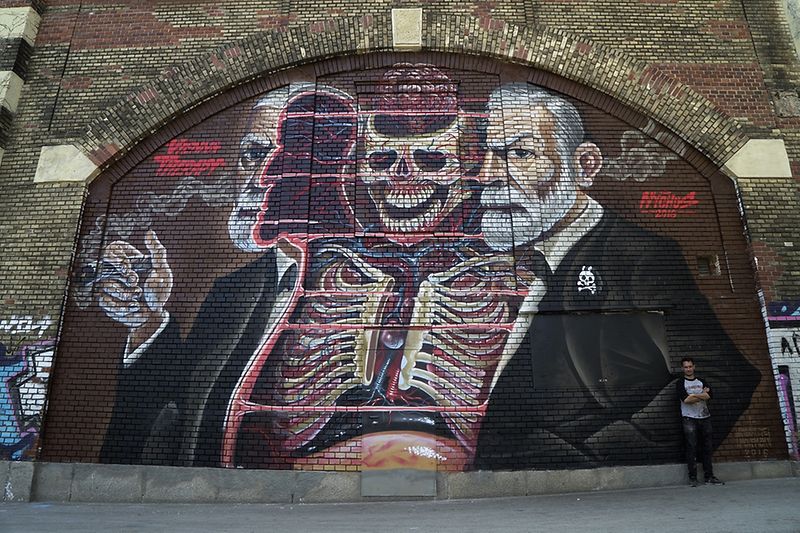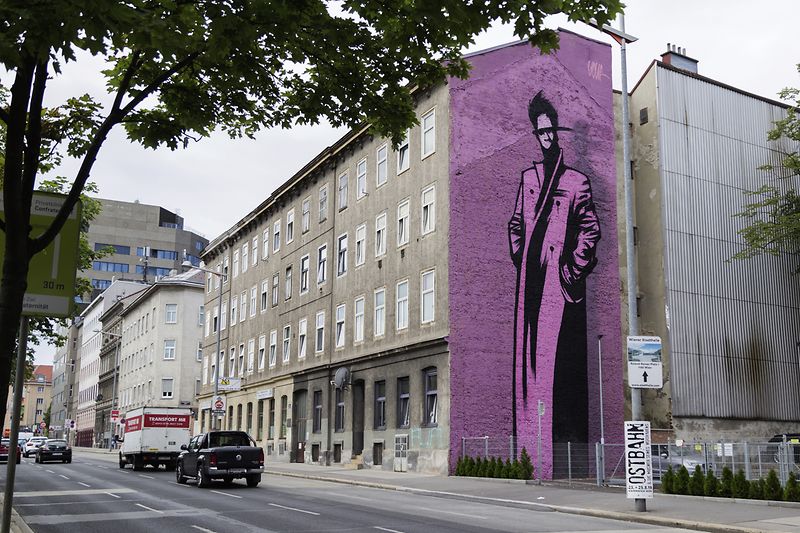 AA Collections is located in the fifteenth district, while Galerie Frewein-Kazakbaev is found in the eighteenth. Several galleries and creative spaces have moved into the Brotfabrik, an old industrial bakery in the tenth district, and on Yppenplatz in the sixteenth district a former market hall has been made into an arts laboratory – the Brunnenpassage. Over 400 events take place here every year, from theater and dance to music, exhibitions and film screenings. Unusual art can be found at two fringe spaces in the twentieth district – New Jörg and Mz* Baltazar's Laboratory.
Street artists have also discovered Vienna's outer districts. At Hernalser Gürtel 13 (seventeenth district) there is a brand new pink mural by Golif measuring 25 meters by 15 meters, and various works adorn the walls around Yppenplatz. Impressive works can also be seen in Braunhirschenpark (fifteenth district), at Quellenstrasse 156 (tenth district), at the Brotfabrik (tenth district) and at Gierstergasse 10 (twelfth district).
Text: Robert Seydel
Galerie Die Schöne
Kuffnergasse 7

1160
Vienna

AA Collections
Reindorfgasse 9

1150
Vienna

Galerie Frewein - Kazakbaev
Schulgasse 70

1180
Vienna

Brotfabrik Vienna (bread factory)
Absberggasse 27

1100
Vienna

Elevator available
Further information

Seeing eye dogs allowed
Wheelchair accessible restroom available.

Comments

Designated parking spaces for people with disabilities only on request at the individual institutions.
Brunnenpassage ArtSocialSpace
Brunnengasse 71/Yppenplatz

1160
Wien

New Jörg
Jägerstraße 56

1200
Vienna

Mz* Baltazar's Laboratory
Wallensteinstraße 38-40

1200
Vienna