Vienna City Marathon 2021
The route will be the same as in previous years: the starting gun for the main competition will be fired as usual at the Vienna International Centre. The route continues over the Reichsbrücke through the Prater, along the Ringstrasse, past magnificent imperial buildings, and then from the Vienna State Opera out to Schönbrunn Palace and back again to the Ringstrasse and Prater. The finish line is finally reached between the Burgtheater and City Hall. Although registration for this year has already closed, many smaller runs can be attended on the Saturday. Registration is still open.
Around 16,000 people have transferred their registration from the previous year. Over 25,000 runners are therefore already on the list of starters. The total number of starting positions in the individual competition remains unchanged from 2020. The familiar running competitions like the half-marathon and the staged marathon, as well as the runs on Saturday like the Children's Run and the "Vienna Sports World" expo are also taking place.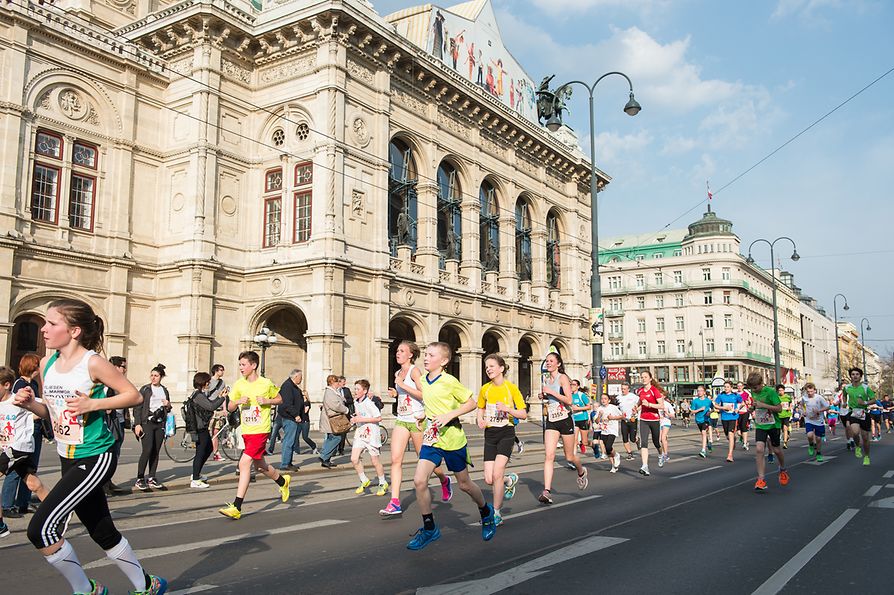 VCM Virtual Race "Together We Run"
Whether Rio or Rotterdam: if you want to take part in the Vienna City Marathon this year, you don't necessarily have to be in Vienna. Everyone can run along in the VCM Virtual Race, wherever in the world they feel like doing so.
Any route can be followed. It is possible to run along both on September 11 and on September 12, in the marathon or half-marathon. During the individual run, runners will be connected with many others who are also taking part in the Vienna City Marathon.
Registration possible until September 5, 2021:  Information & registration
Vienna City Marathon 2021 – The program
All participants must have a negative Covid test.
Events on Friday & Saturday, September 10 & 11, 2021:
"Vienna Sports World" expo, Marx Halle (Karl-Farkas-Gasse 19, 1030 Vienna)
Free admission!
Runs on Saturday, September 11, 2021:
Registration possible until September 5, 2021:
Registration possible until September 10, 2021:
Runs on Sunday, September 12, 2021
Traditional marathon (42.195 kilometers)
Half-marathon (21.0975 kilometers)
Relay marathon (with 4 runners, total marathon distance)