On a Segway through Vienna
Almost all of Vienna's main attractions lie along the route of the provider Pedal Power Vienna, which Vienna's tour guides take you along on the Segway tour around the Ringstrasse and through the Old City: State Opera, Burggarten, Hofburg, Parliament, City Hall, Burgtheater, University, Freyung, Michaelertor, Kohlmarkt, Graben and St. Stephen's Cathedral.
Pedal Power Vienna
Vienna City Segway Tour: classical sightseeing tour to explore Vienna
Apr-Oct: 2 p.m daily
May, Jun: 10 a.m. daily
Jul-Oct: 10 a.m. on Fri, Sat, SunMay-Sept: 7 a.m. on Fri, Sat
Meeting point: Bösendorferstraße 5, 1st district Map
Duration: 3 hours
State-certified tour guide: German, English
Reservations required!
Important information:
Each tour starts with a 30-minute introduction. This will familiarize you with the Segway, making you feel safe and secure during the tour. Segways are suitable for everyone 12 years and up – it is, however, recommended that pregnant women not take the tour.
If you have questions, please send an e-mail to: office@pedalpower.at
Tel. +43 1 729 72 34
www.segway-vienna.at
Segway Flotte Praterstern
A diverse range of Segway tours is offered by the provider Segway Flotte Praterstern. Classic city tours leading to all of the main sights in the city center can be booked here. Tours to exciting places and attractions away from Vienna city center are also possible: Such as to Schönbrunn Palace, the Bohemian Prater or a tour that takes you to the graves of honor at Vienna's Central Cemetery.
You have the possibility to book a tour with a certified tour guide, as well as to go on a tour with only one escort, who looks after you along the way and brings you back safely to the starting point afterwards.
Segways can also be rented from this provider and allow you to explore the city center, the Prater, Danube Island or the Lobau on your own – once you've been shown how to ride one.
All tours can be booked at short notice up to one day in advance. Booking options are available on the provider's website.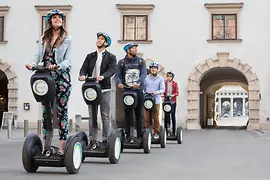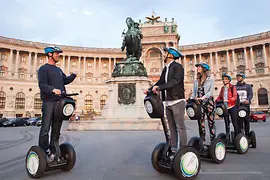 Pedal Power
Bike rentals & sightseeing tours
Bösendorferstraße 5

1010
Vienna

Your benefit with the Vienna City Card: -20%

Additional information on the offer:

Standard ticket price from 47€ / Offer valid for the "Classic Vienna Bike Tour" (booking possible directly via the partner's website)

March - October

daily, 09:00 - 18:00
Segway Flotte Praterstern
Praterstern Bahnhof Wien Nord SH02

1020
Wien

25.09.2023 11:00 - 17:00
26.09.2023 11:00 - 17:00
27.09.2023 11:00 - 17:00
28.09.2023 11:00 - 17:00
29.09.2023 11:00 - 17:00
30.09.2023 11:00 - 17:00