© WienTourismus/Christian Stemper
Art nouveau and modernism in architecture
The Secession building, completed in 1898 by Joseph Maria Olbrich, is one of the best known examples of Viennese art nouveau. This pioneering building near the Naschmarkt was the first exhibition hall in Central Europe to be dedicated exclusively to modern art, and is widely credited as being one of Europe's most original art nouveau constructions. Gustav Klimt submitted two designs for the building in 1897, which was commissioned as an alternative to the Künstlerhaus.
Other than the Secession building, which provided exhibition premises for Klimt and his younger contemporaries, Vienna is packed with thought-provoking architecture that bears witness to the progressive spirit of Klimt's day. Architects Otto Wagner and Josef Hoffmann shaped the Austrian capital like no others, accounting for a large slice of the city's art nouveau building stock. The stations, viaducts and decoration of the former Stadtbahn (urban railway), the Majolikahaus and Musenhaus on the Wienzeile, Europe's first modernist church (St. Leopold am Steinhof) and the Postsparkasse Savings Bank on the Ringstrasse were all designed by Otto Wagner. There is a permanent exhibition dedicated to Wagner's oeuvre at the Postsparkasse (www.ottowagner.com).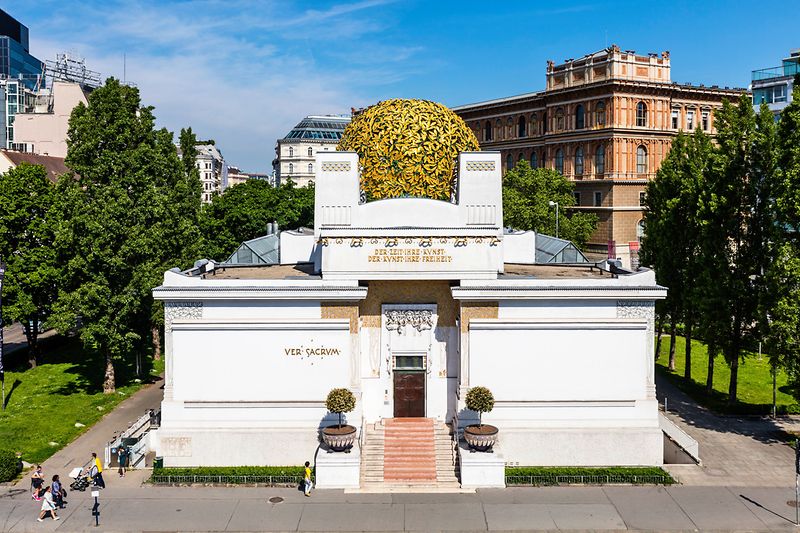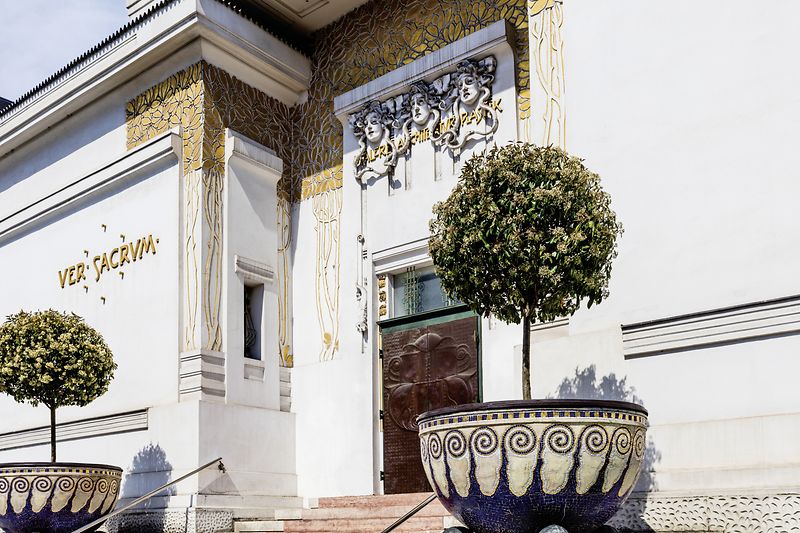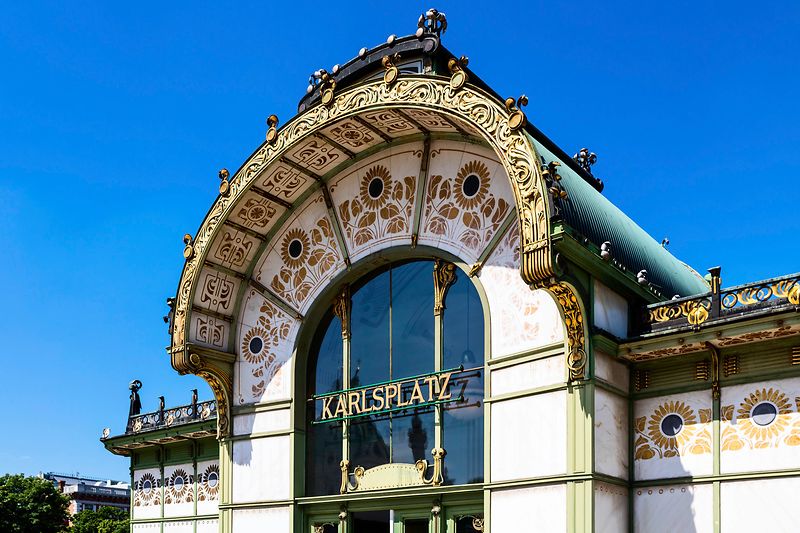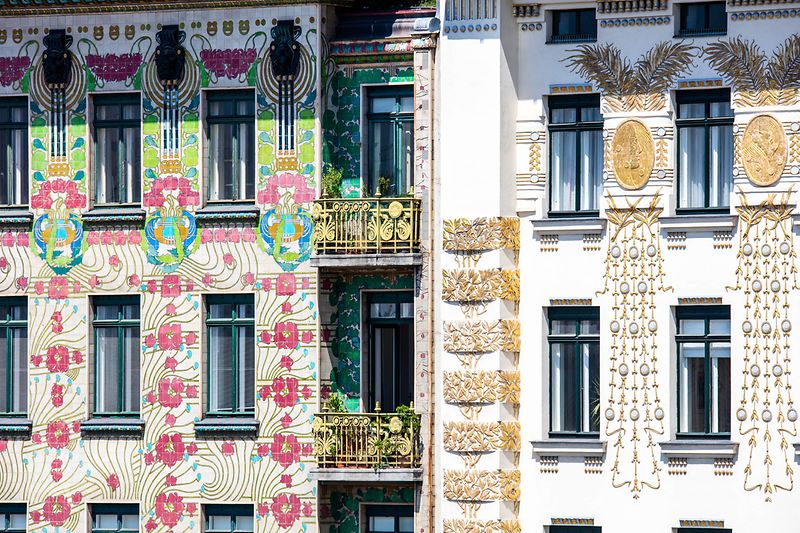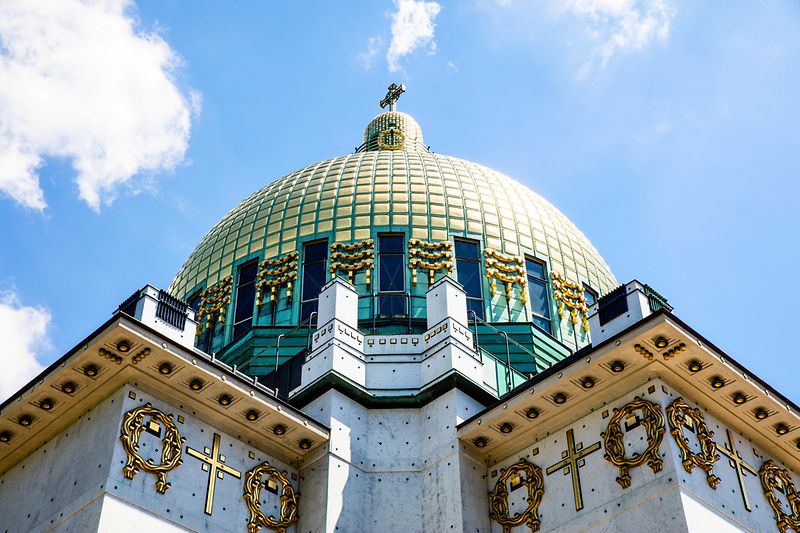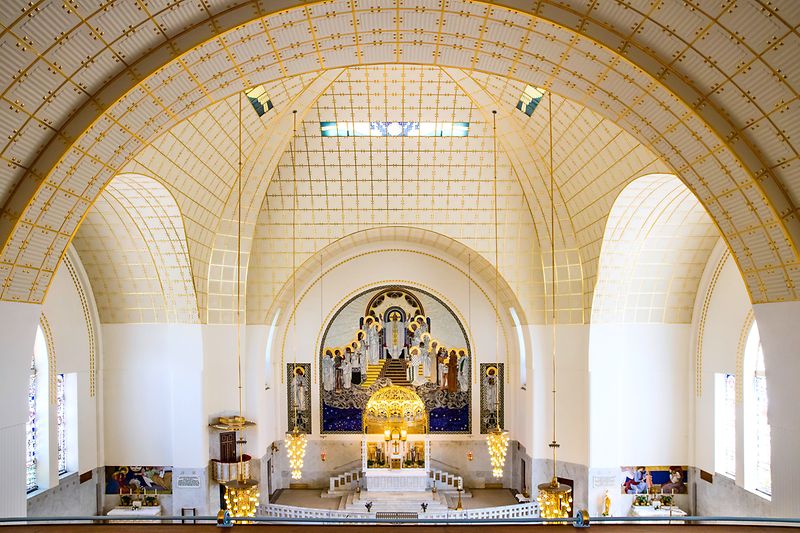 Josef Hoffmann's villas in the 19th district are well worth a look. Two more of Wagner's students, Josef Plečnik and Max Fabiani, came up with the design for the Church of the Holy Spirit, the Artaria House and the Urania building. One landmark building in the history of modern architecture in Vienna has lost none of its appeal to this day - but when it first appeared the Adolf Loos building on Michaelerplatz was reviled by Emperor Franz Joseph and a population more at home with historicist architecture.
All of these buildings, and countless more art nouveau gems throughout the city, have a timeless appeal.
Visitors can discover them under their own steam or on one of the countless art nouveau tours, conducted by government-approved tour guides.
Secession
Friedrichstraße 12

1010
Vienna

Tu, 10:00 - 18:00
We, 10:00 - 18:00
Th, 10:00 - 18:00
Fr, 10:00 - 18:00
Sa, 10:00 - 18:00
Su, 10:00 - 18:00

Main entrance

13 Steps (Schwingtüre 120 cm wide)

Side entrance

(Schwingtüre 120 cm wide)

Elevator available
Further information
Special offers for people with disabilities

(Audio guide free with the Vienna City Card, iBeacons technology and free audio tours for smartphones will be offered)
 People with disabilities pay the discounted admission price, companions enjoy free admission.

Comments

Main exhibition rooms accessible by elevator. Access to all exhibition rooms: elevator. Elevator: door width: 80 cm, cabin depth: 105 cm, cabin width: 80 cm. Beethoven Frieze: 15 steps (escort required). Drawing Room: 24 steps.
Otto Wagner Pavilion
Karlsplatz

1040
Vienna

Otto Wagner's Court Pavillon (Hietzing)
Schönbrunner Schloßstraße

1130
Vienna

Sa - Su, 10:00 - 13:00
Sa - Su, 14:00 - 18:00

Main entrance

2 Steps (Doppelschwingtüre 156 cm wide)
Stufenhöhe je 16cm

Further information
Special offers for people with disabilities

Guided tours on request.
Majolika House
Linke Wienzeile 40

1060
Vienna

Steinhof Church (Kirche am Steinhof)
Baumgartner Höhe 1

1140
Vienna

Sa, 16:00 - 17:00
Su, 12:00 - 16:00

Sunday and Holiday 9.30 a.m. Mass

Saturday

Sunday

Wednesday (April to October)

2 p.m. art nouveau guided tour

Main entrance
Further information
Comments

Interior: no steps
Austrian Post Savings Bank (Österreichische Postsparkasse)
Georg-Coch-Platz 2

1010
Vienna

Mo, 10:00 - 17:00
Tu, 10:00 - 17:00
We, 10:00 - 17:00
Th, 10:00 - 17:00
Fr, 10:00 - 17:00

Further information

Seeing eye dogs allowed
Wheelchair accessible restroom available.

Comments

Nebeneingang (Wiesingerstraße 4) stufenlos
Artaria House
Kohlmarkt 9

1010
Vienna

Urania
Uraniastraße 1

1010
Vienna

Main entrance

30 Steps (Schwingtüre 80 cm wide)

Further information

Wheelchair accessible restroom available.
Looshaus
Michaelerplatz 3

1010
Vienna