© Prater/Clemens Schmiedbauer
HalloWien: a scary day in Vienna
"Death must be Viennese," asserted the Viennese composer and poet Georg Kreisler. And he wasn't so wrong about that. After all, the Viennese soul was without doubt born with a big portion of all things morbid. We present the scariest places in Vienna for a perfect Halloween:
Halloween in the Prater
The Grim Reaper is waiting on almost every corner in the Prater: witches and monsters make their ghostly rounds on one of the many ghost trains. Other terrifying adrenalin attractions include Black Mamba, Tornado, and Magic Rotor ....
Torture and execution
Anyone who says people are mostly afraid of the unknown has probably never been to the Torture Museum. Because our next stop in the 6th district explains the dark chapters of the past and shows places of execution as well as methods of torture that still send shivers running down visitors' backs to this day.
A tower of creepiness
The Madhouse Tower is a five-story circular structure that impresses on the outside with its architectural refinements. Inside, it is the human anatomy that gets you shuddering. The pathological-anatomical collection on display here is rich in exciting exhibits with the goosebump factor and an absolute must on the list of tips for a scary day in Vienna. Originally built as a sanitarium for people with mental and neurological disorders under Emperor Joseph II, it is now the place to see four real skulls, prepared human parts and many other ghoulish exhibition items.
Idyll and goosebumps
If you'd rather strain your step counter than your nerves, then you'll hit the mark with an extended walk across the extensive Central Cemetery in Vienna. It surprises with idyllic paths, between which countless Viennese have their final resting place. People who have remained famous beyond their death can also be visited here, including deceased presidents of Austria, the composer Ludwig van Beethoven and the music legend Falco. Things get particularly obsolete in the northern section of Vienna Central Cemetery, home to the wonderfully overgrown Jewish cemetery. This is an especially mystical place when wisps of fog drift between the enchanted gravestones.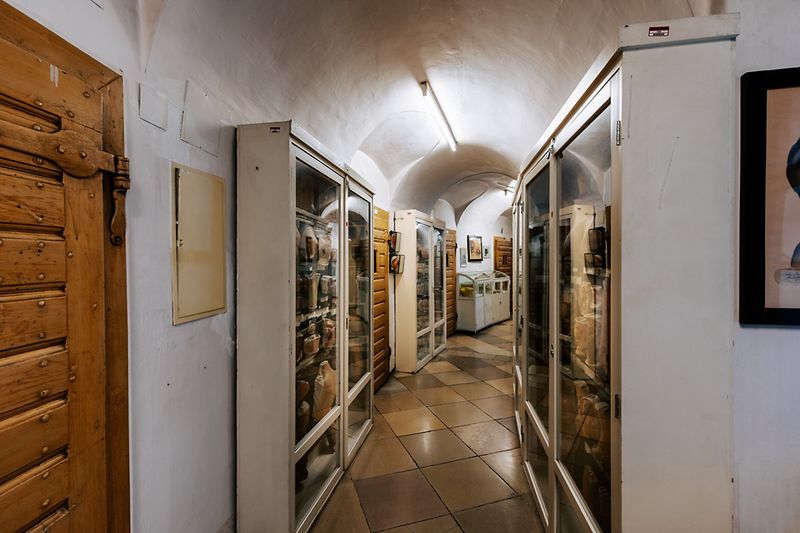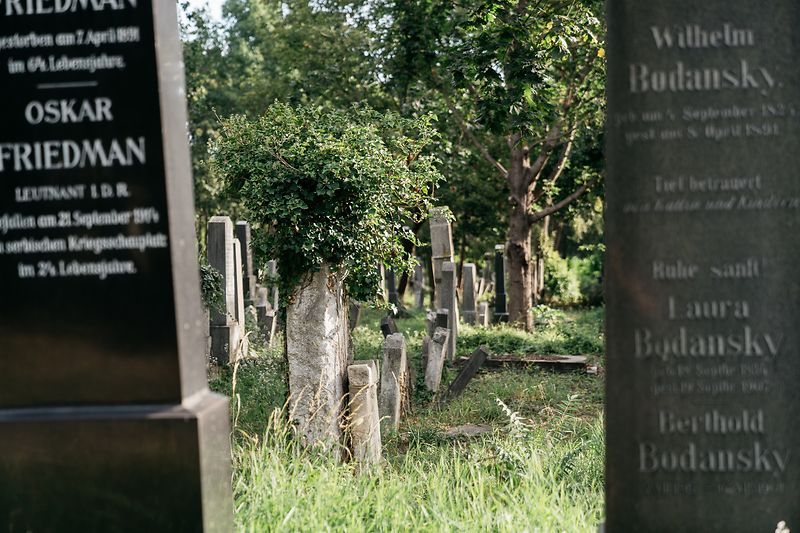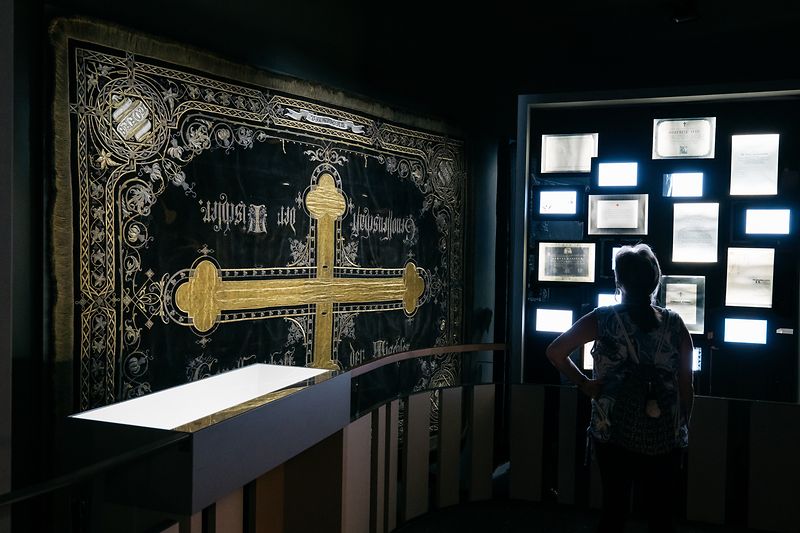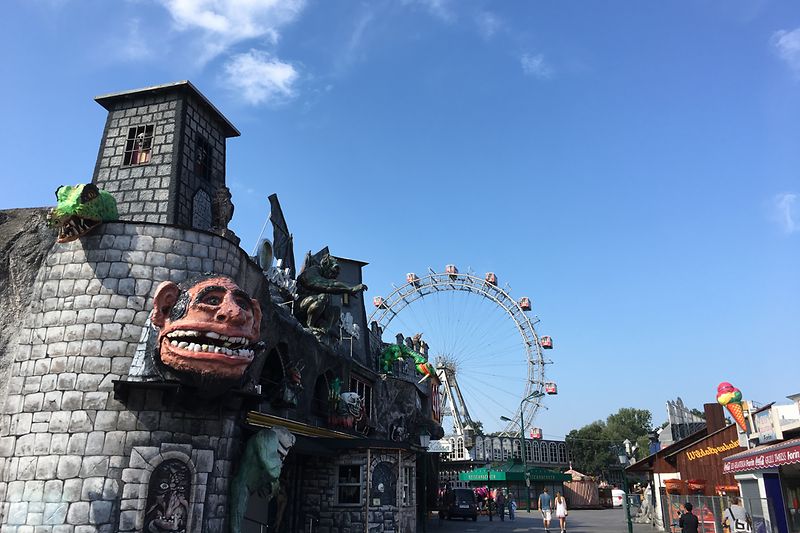 Black humor to take away
Vienna Central Cemetery is also home to the Funeral Museum. Highlights for everyone blessed with gallows humor: trying out lying in a casket and the museum shop. Gym bags with sayings on them such as "Ich turne bis zur Urne" ("I'm exercising to death") can be purchased in the latter. Quirky LEGO figures in the form of crematoria, graves and undertakers – which are mainly intended to help children process death more easily – can also be bought here. In other words, a to-do for a scary day in Vienna that couldn't be more Viennese.
Dessert with the creepy factor
A long day with goosebumps is followed by the final shock: the sugar shock! We're talking about the 'Scheiterhaufen', or funeral pyre. Feared by alleged witches in days gone by, it is now loved by everyone in the form of a dessert: apple bread pudding. The cult dish is served in places such as Café Diglas. After this scary day in Vienna, your adrenalin levels can also slowly restore themselves there.
Prater
Prater

1020
Vienna

Your benefit with the Vienna City Card:

-32%

Special Offer: Voucher-Package

Additional information on the offer: This package includes: A ride on the Giant Ferris Wheel, one ride each by two selected operators, a Schnitzel, Sachertorte with coffee or a Kaiserschmarren. Present your Vienna City Card to purchase your package directly in the Vienna Prater (info point on Riesenradplatz).

15 March to 31 October
Main season
daily, 12:00 - 20:00

Weather permitting

Main entrance
Car parks Main entrance

Parking spaces for people with disabilities
at Riesenrad (Giant Ferris Wheel) and Schweizerhaus (Waldsteingartenstraße)

Further information

Wheelchair accessible restroom available.

Comments

Wheelchair-accessible restrooms: Messegelände / Parkplatz, 1.-Mai-Strasse (in the middle), Calafattiplatz.
Torture Museum (Foltermuseum)
Fritz-Grünbaum-Platz 1

1060
Vienna

Your benefit with the Vienna City Card:

-25%

Additional information on the offer: Standard ticket price: 6€
Collection of Anatomical Pathology in the Madhouse Tower – NHM
Spitalgasse 2, Narrenturm

1090
Vienna

Central Cemetery (Zentralfriedhof)
Simmeringer Hauptstraße 234

1110
Vienna

Further information

Seeing eye dogs allowed
Wheelchair accessible restroom available.

Comments

Honorary tombs: Main Entrance (2nd Gate, access by car possible on the blue paths), free with ID. One can apply for the access card at the Infopoint (2nd Gate). Wheelchair-accessible restroom accessible with "Euro-Key" near Hall 3, in the cemetery church and at the cemetery office (ramp), gravel paths.
Funeral Museum at Vienna's Central Cemetery
Simmeringer Hauptstraße 234

1110
Vienna

Your benefit with the Vienna City Card:

-17%

Additional information on the offer: Standard ticket price: 6€

Mo - Fr, 09:00 - 16:30

March 1 - November 2

Sa, 10:00 - 17:30

Main entrance

12 Steps (Doppelschwingtüre )
Ramp: 6 % incline with intermediate landings of 120 cm length, wall opening of 160 cm and a passageway opening of 144 cm (from railing to railing);

Further information

Seeing eye dogs allowed
Wheelchair accessible restroom available.

Comments

Alternatively to the ramp: 12 steps 14.66 / 35 cm, wall opening 160 cm, handrail on both sides 144 cm, passageway opening 144 cm;
Café Diglas
Wollzeile 10

1010
Vienna

Mo - Fr, 08:00 - 22:30
Sa - Su, 09:00 - 22:30
on holidays, 09:00 - 22:30

Piano music daily from 7:00 pm - 10:00 pm