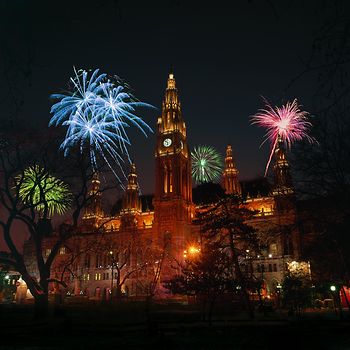 © Österreich Werbung, Fotograf: Georg Popp
New Year's Eve 2020/21 in Vienna
Due to COVID-19, cultural and leisure facilities such as theaters, concert halls, cinemas and cabarets, as well as all restaurants and hotels are closed even on New Year's Eve.
Superb exhibitions and a dazzling array of events, concerts, operas, operettas and the hit musical "Cats" promise New Year's Eve guests a diverse program by day and night again this year.
Normally, the entire city center transforms into a giant party site on December 31 for the New Year's Eve Trail. Because of Corona, this Viennese institution must take a break this year.
A unique New Year's atmosphere can also be enjoyed on a boat trip along the Danube and at New Year's Eve galas held in luxury hotels. The "Majestic Imperator", an imperial luxury train, invites everyone to go on an exclusive ride into the new year, while "Die Fledermaus" by Johann Strauss is performed in time-honored tradition at the Vienna State Opera.
New Year's Day in Vienna will be greeted in classic fashion with a morning "hangover cure" brunch – featuring a live broadcast of the Vienna Philharmonic's New Year's Concert. In some Viennese hotels there is a live broadcast over a cozy brunch.