© Wolfgang Simlinger
Summer in the MuseumsQuartier
Of course, the MuseumsQuartier is in every tourist guide. But the Viennese like the former imperial court stables as well, where they meet up in summer to chat, hang out, drink beer, and play boules. The MuseumsQuartier has turned into the open-air living room of the city. Lounging on the famous MQ furniture – which comes in a different color every year – and just looking skywards. This is called relaxing the Viennese way.
Vienna's MuseumsQuartier (MQ) is one of the biggest cultural areas in the world. The mix of large museums, small cultural initiatives and trendy bars and restaurants is a success story. After visiting a museum, you can find yourself a cozy spot in the convivial dining gardens or on the stylish MQ furniture in the courtyard of the MuseumsQuartier, play a round of boules or enjoy an ice cream from Veganista (ice cream booth daily from 11.00 am to 10.00 pm).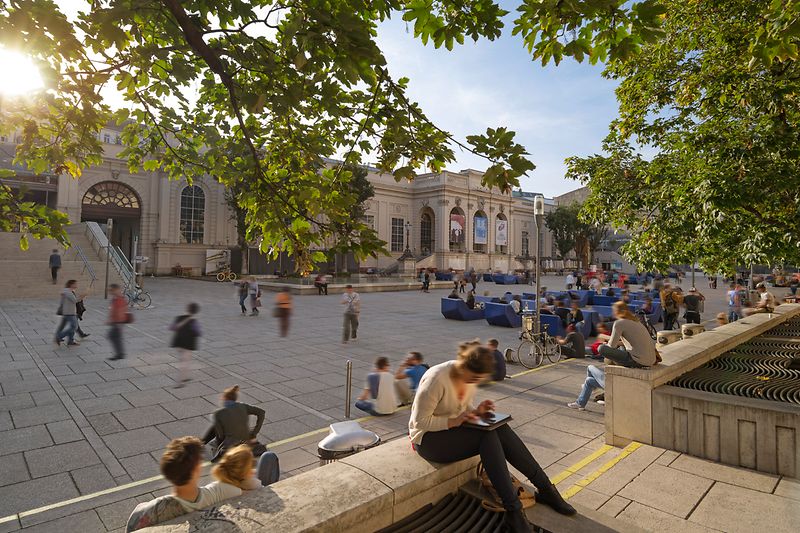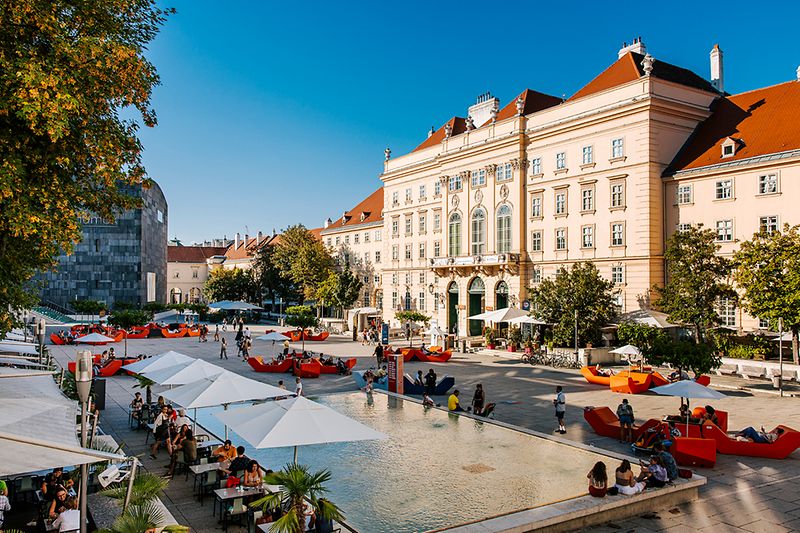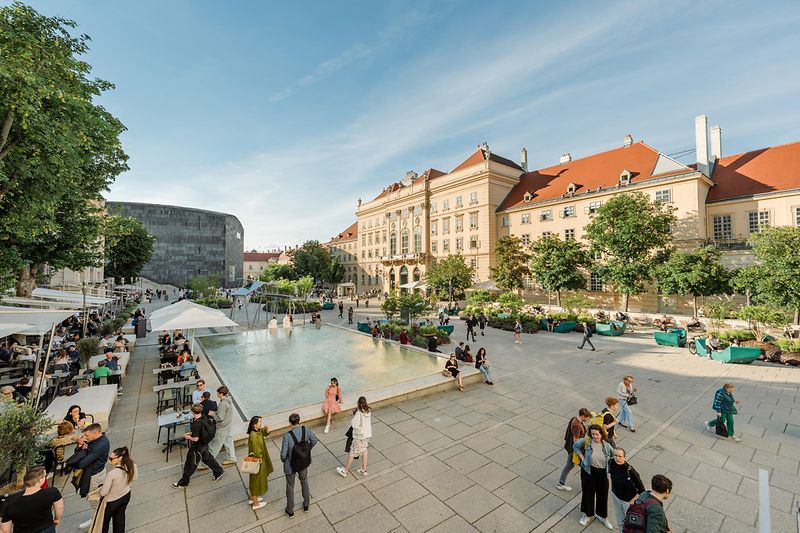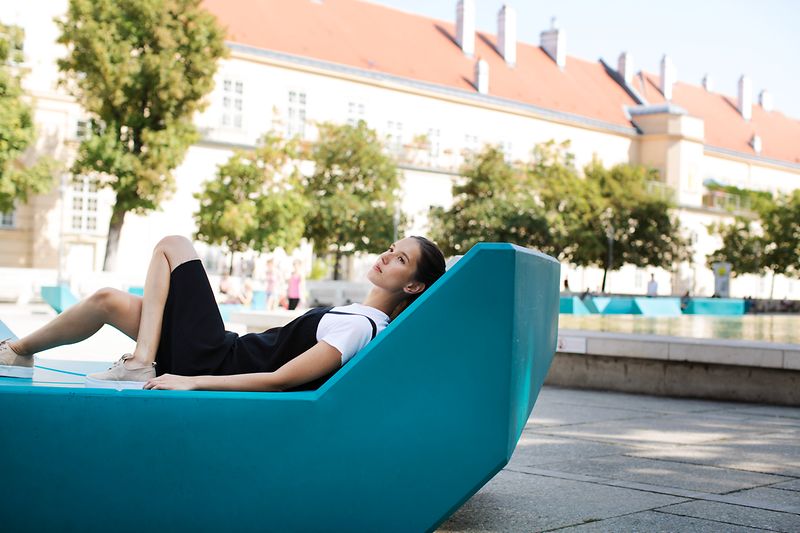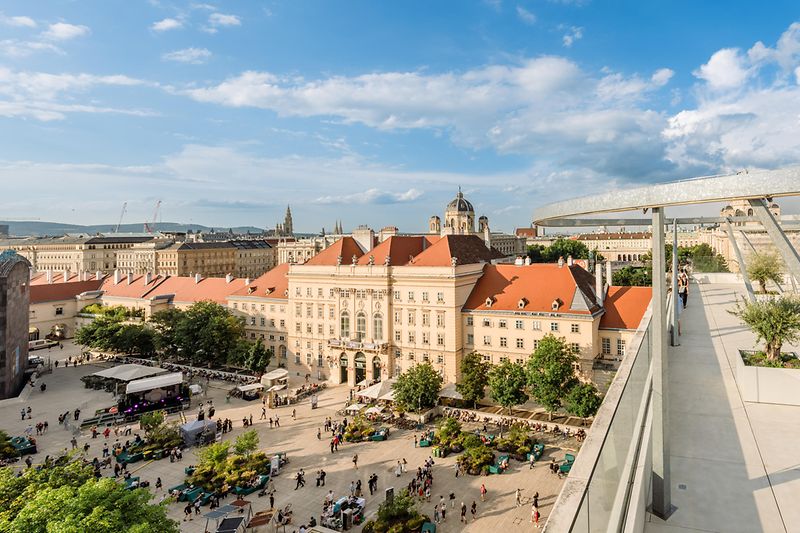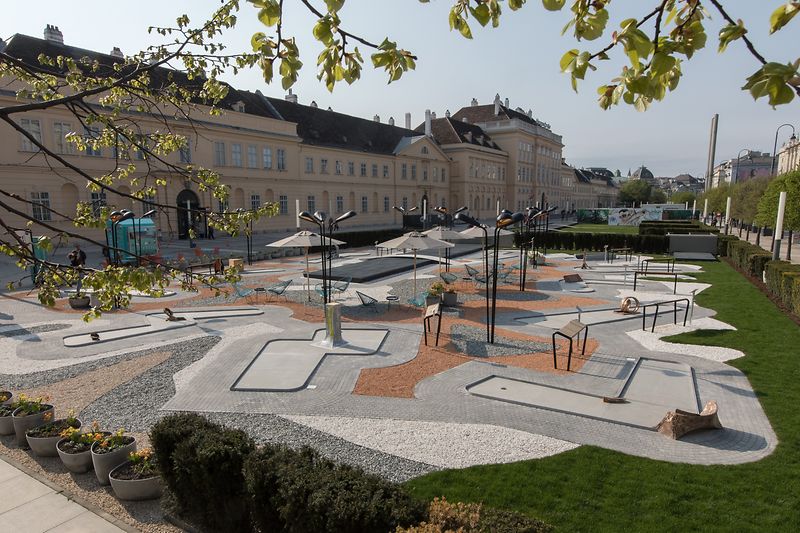 MQ Libelle: New viewing terrace
The MQ Libelle affords the best views of the city. The new roof terrace atop the Leopold Museum is accessible to the public via two elevators. There are lots of seating areas, and a small kiosk called "Zur Libelle" serves champagne meatloaf and drinks. The MQ Libelle is open daily (except Tuesdays) from 10.00am to 10.00 pm.
The mini-golf sculpture park MQ Amore is also popular. On the square in front of the MQ, artists have created twelve sculptures in the form of mini-golf courses. Open until October, Mo-Fr 12.00 noon - 10.00 pm, Sa-Su & hols. 10.00 am - 10.00 pm
Looking at art & film
Many museums invite you to pay them a visit: the Leopold Museum owns the world's largest Egon Schiele collection, there's contemporary art at the mumok – Museum of Modern Art Ludwig Foundation Vienna and at the Kunsthalle Wien. The Austrian Architecture Museum is also exciting.
The O-Töne Literature Festival organizes first-class open-air readings, every Thursday in July and August. Movie fans also get their money's worth: the frame[o]ut festival provides audiovisual surprises on the outdoor summertime movie screen in the MQ from July 9 to August 28, 2021, every Friday and Saturday at 10.00 pm.
MuseumsQuartier Vienna
Museumsplatz 1

1070
Vienna

Main entrance
Car parks Main entrance

4 Parking spaces for people with disabilities
6 parking spaces within the MuseumsQuartier complex

Further information

Seeing eye dogs allowed
Wheelchair accessible restroom available.

Special offers for people with disabilities

Wheelchair service in the MQ-Point by the main entrance: daily 10 am – 7 pm free rental (form of ID left as a deposit). Inductive audio systems in the auditoriums (Hall E + G). 
 Seeing-eye dogs by prior arrangement with the respective cultural institutions.

Comments

Access to all MuseumsQuartier institutions: no steps. All public elevators are suitable for wheelchairs.