Elegant Viennese watches with tradition
Emperor Franz Joseph, his wife Sisi, Sigmund Freud – they once numbered among the exclusive clientèle of Carl Suchy & Söhne. The watch manufactory based in Vienna and Prague was established in 1822 and soon became an official purveyor to the Imperial and Royal Court. Carl Suchy celebrated major successes at the Vienna World's Fair in 1873. Even in those days, the brand represented timeless Viennese design combined with traditional Swiss craftsmanship. After the monarchy came to an end, the brand disappeared, but is now available again.
Carl Suchy & Söhne is celebrating the comeback with the automatic wristwatch Waltz N°1, whose minimalist design is a recreation of Vienna Modernism and the purist style of Adolf Loos. As in the days of the Habsburg monarchy, the watches are designed in Vienna and made in Switzerland. The watch is produced in a strictly limited edition each year. An unusual table clock is also on the program.
The clocks are available exclusively by appointment in the offices of Carl Suchy & Söhne at Prinz-Eugen-Strasse 48 (appointments at sales@carlsuchy.com or tel. +43 660 75 24 331) and from the distribution partners shown: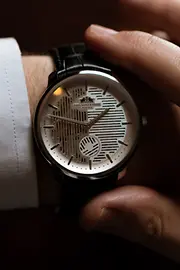 Prinz-Eugen-Straße 48/Top 3

1040
Vienna

Hübner - master watchmakers
Graben 28

1010
Vienna

Mo - Fr, 10:00 - 18:00
Sa, 10:00 - 17:00