© Klyo
Christmas punch terraces
There will be no Christmas markets this year.
At the highest Christmas market Vienna, in the Atmosphere Rooftop Bar on the roof of the Ritz-Carlton Vienna, visitors can look forward to a breathtaking view over the roofs of the city from November 15. Apart from warming punch, a variety of culinary treats and cocktails are served in the little cabins on the roof terrace, while the cozy chalet is the place to head to warm up.
Palais Coburg opens its doors to its atmospheric winter days again on November 22. In the heart of the city, but in an elevated position on the bastion, enjoy hot punch and eggnog, marshmallows toasted over the fire, potato pancakes, hot dogs and sweet treats for a quick snack, all in front of the backdrop of the festively illuminated palace. Extra warmth is provided by snuggly blankets and pleasant lounge music.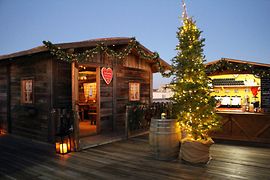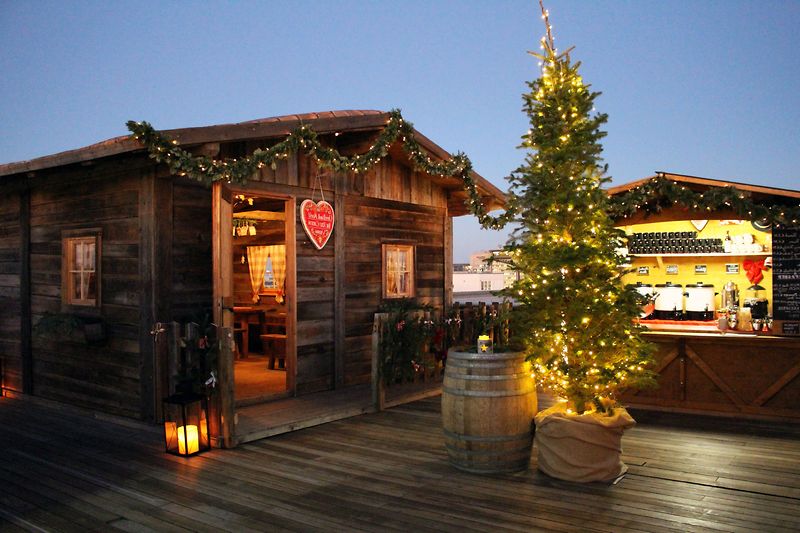 Punch on the Danube Canal
Despite the cold temperatures, guests' hearts are warmed on the punch terrace in the Klyo by the Danube Canal. Mulled wine, sausages and toasted almonds are served here from November 15 with a view of the Danube Canal.
The punch deck on the pool boat, which also lies on the Danube Canal, also offers a great view of Vienna's illuminated skyline. Mulled wine, cider, fried potatoes and much more can be enjoyed here under the open sky. A visit to the punch deck can also be perfectly combined with a round of curling on the pool boat.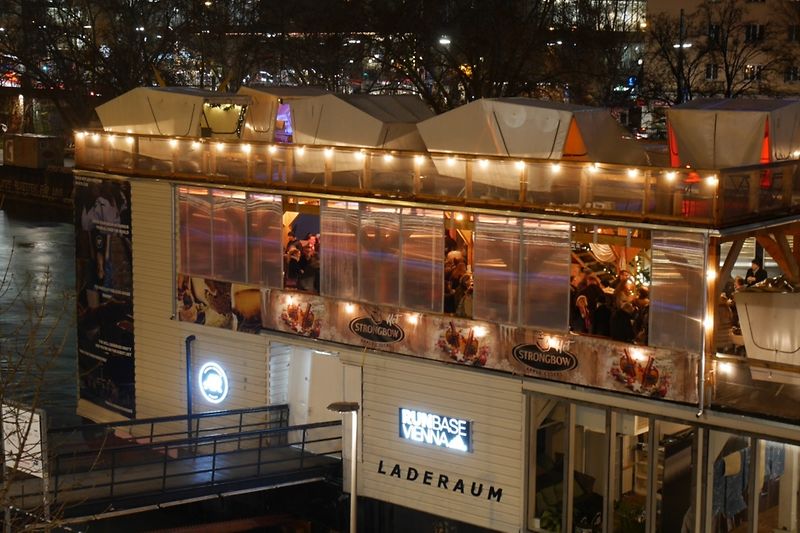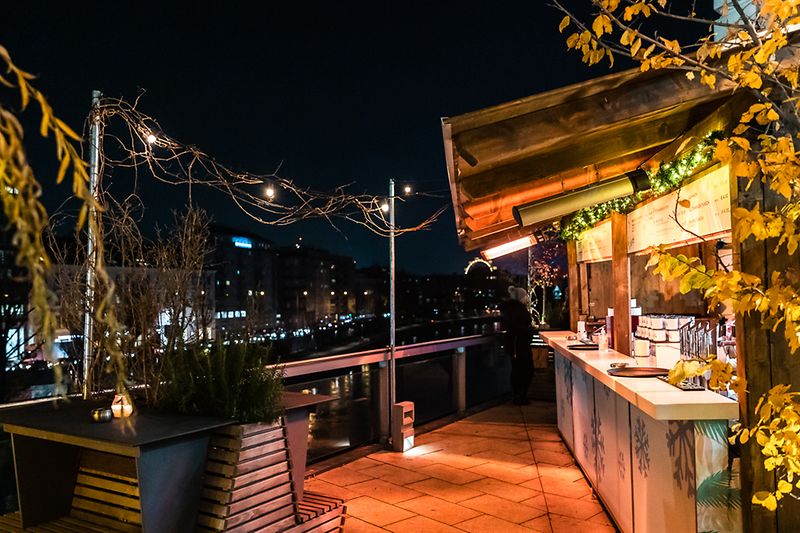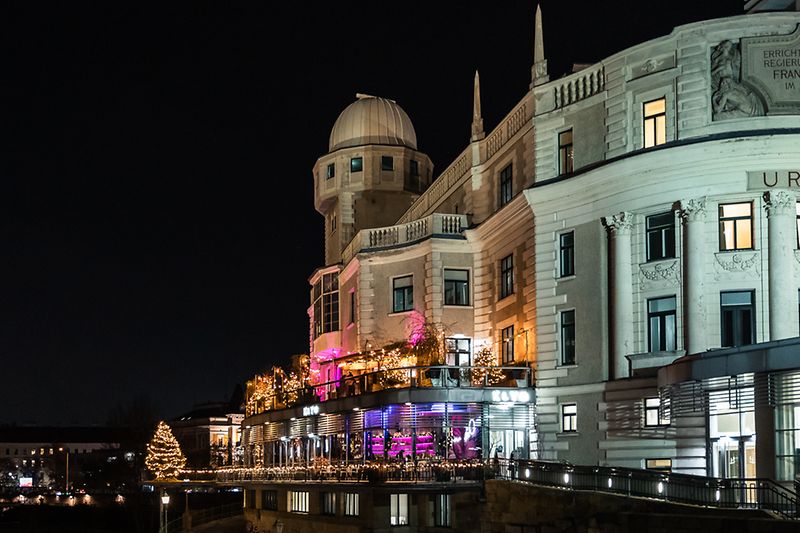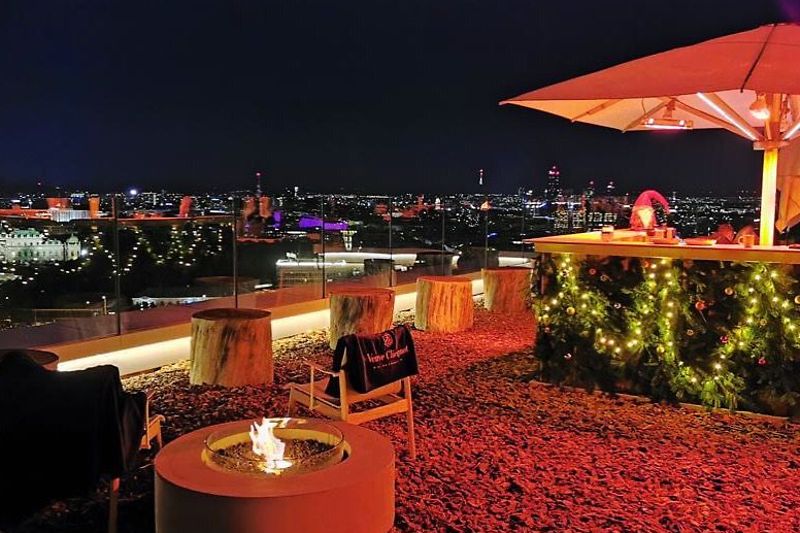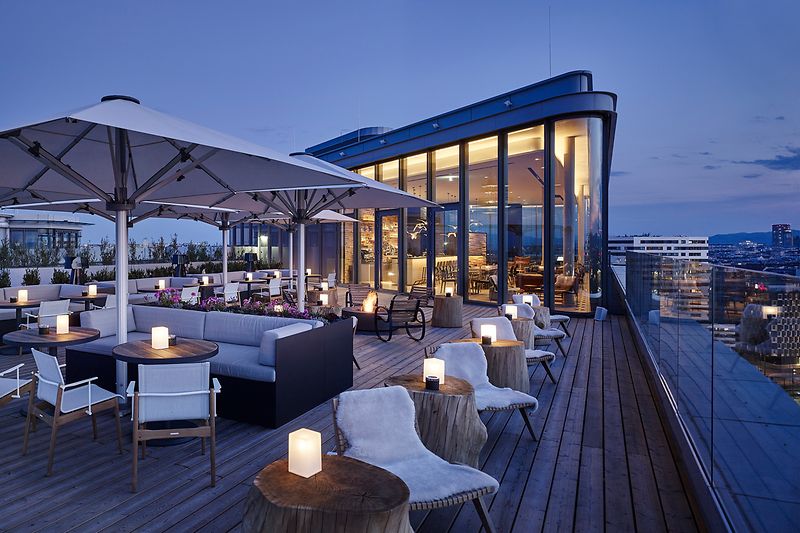 In winter, visitors to the Lamée Rooftop Bar are pampered with homemade punch and mulled wine, hot chocolate and even hot cocktails. There's is also a sensational view of St. Stephen's Cathedral as an extra freebie. Anyone who still feels cold can snuggle up in the blankets and warm themselves under the heating lamps.
The Aurora Rooftop Bar is dedicated entirely to a Scandinavian winter. Hot glögg, fresh chestnuts, and Æbleskiver, traditional Danish pancake balls for snacking on, are served on the Christmas terrace and at the Winterbar. Warming radiators, the fire pit and the fireplace invite you to spend a cozy time together.
Christmas over the Rooftops
November 15 - December 26, 2019
Daily from 4.00 pm - 9.00 pm
Palais Coburg Winter Days
November 22 - December 22, 2019
Every Fr & Sa from 4.00 pm
http://palais-coburg.com/kulinarik/specials/
Klyo Punch Terrace
November 15 - December 23, 2019
Daily from 5.00 pm - 10.00 pm
Punch Deck on the Pool Boat
All winter long from November 13, 2019
Mon-Sat from 4.00 pm - 10.00 pm, Sun from 2.00 pm - 8.00 pm
Lamée Rooftop Winterwonderland
November 15, 2019 – Mid of January 2020
Mo-Fr 12.00 noon - 11.00 pm, Sa & Su 10.00 am - 11.00 pm
Closed when raining/snowing
Aurora Christmas Terrace & Winterbar
November 25 - December 23, 2019
Outdoor: daily from 2.00 pm - 10.00 pm
Indoor: daily from 2.00 pm - 2.00 am
Aurora Rooftop Bar Hotel Andaz Vienna Am Belvedere
Arsenalstraße 10

1100
Vienna

Mo - Fr, 16:00 - 22:00
Sa - Su, 09:00 - 22:00