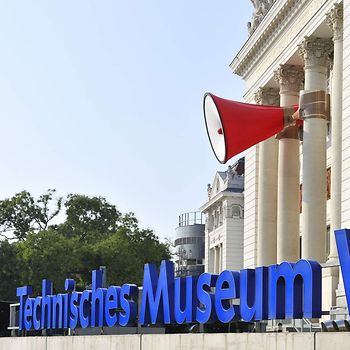 © Schaub-Walzer / PID
Museum of Technology
The unique exhibits, from the past to the future, make the museum a showplace for exciting technological developments. Multimedia presentations illuminate the influence of technological achievements on our society, economy and culture. Visitors experience the extraordinary world of technology.
The guided tour through the mine exhibit, for example, shows the world of mining with its language and culture. Many devices that we know from everyday life, such as water pumps, were first used in mines. Mine tours take place daily, and groups can reserve a tour in advance.
Another highlight is the high-voltage demonstration: A singing Tesla coil creates extremely high voltages that form lightning bolts. These discharges fulfill a very special function: they play music. The electricity in the discharge is controlled in such a way that the lightning itself becomes a speaker. Normally we only hear crackling, but the singing Tesla coil makes music. The repertoire ranges from "The Blue Danube" to "Smoke on the Water".
"Train departing!" at the famous "Schnittlok". This steam locomotive conveyed passengers through Austria almost 100 years ago. Today it stands in the Museum of Technology and offers insights into the interior of a steam locomotive. Several other technological treats and regular special exhibits make a museum visit an extraordinary experience for visitors both young and old.
Vienna Museum of Technology (Technisches Museum Wien)
Mariahilfer Straße 212

1140
Vienna

Your benefit with the Vienna City Card:

-20%

Additional information on the offer: Standard ticket price: 14€

Mo, 09:00 - 18:00
Tu, 09:00 - 18:00
We, 09:00 - 18:00
Th, 09:00 - 18:00
Fr, 09:00 - 18:00
Sa, 10:00 - 18:00
Su, 10:00 - 18:00
on holidays, 10:00 - 18:00

Main entrance

no steps (Doppelschwingtüre 160 cm wide)

Car parks Main entrance

Parking spaces for people with disabilities

Elevator available
Further information

Seeing eye dogs allowed
Wheelchair accessible restroom available.

Special offers for people with disabilities

Free admission to the museum for visitors with special needs.
 Rental wheelchairs available, special tours for people with disabilities and special needs, tours for visitors with special needs on request, translator for the hearing-impaired available on request (Reservations: Tel. +43 1 899 98–3001).

Comments

All rooms accessible with special wheelchair elevators (ask museum staff for assistance).