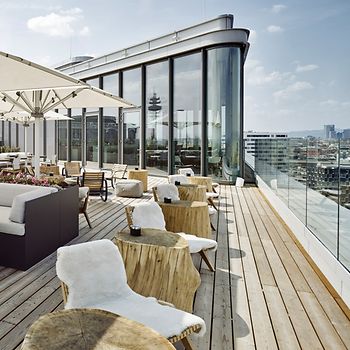 © Andaz Vienna Am Belvedere
The best open air bars
Rooftop bars are the hippest locations in summer. What could be better than to enjoy the view of Vienna over a good cocktail. Perfect for a sundowner is the Atmosphere Rooftop Bar on the roof of the Ritz-Carlton Vienna on Vienna's Ringstrasse. This bar is best known for serving refreshing highballs, while the team of the restaurant Pastamara delivers Mediterranean dishes from the kitchen.
Atmosphere Rooftop Bar The Ritz-Carlton, Vienna
Schubertring 5-7

1010
Vienna

Tu, 17:00 - 00:00
We, 17:00 - 00:00
Th, 17:00 - 00:00
Fr, 17:00 - 00:00
Sa, 17:00 - 00:00

In good weather
Another very different view of the city can be had from the Aurora Rooftop Bar at the Hotel Andaz Vienna Am Belvedere. Indeed, even the Belvedere can be seen from the cocktail bar on the 16th floor. Nordic design, Nordic bar food and unusual drinks surprise visitors here.
Aurora Rooftop Bar Hotel Andaz Vienna Am Belvedere
Arsenalstraße 10

1100
Vienna

We, 12:00 - 23:00
Th, 12:00 - 23:00
Fr, 12:00 - 01:00
Sa, 09:00 - 01:00
Su, 09:00 - 23:00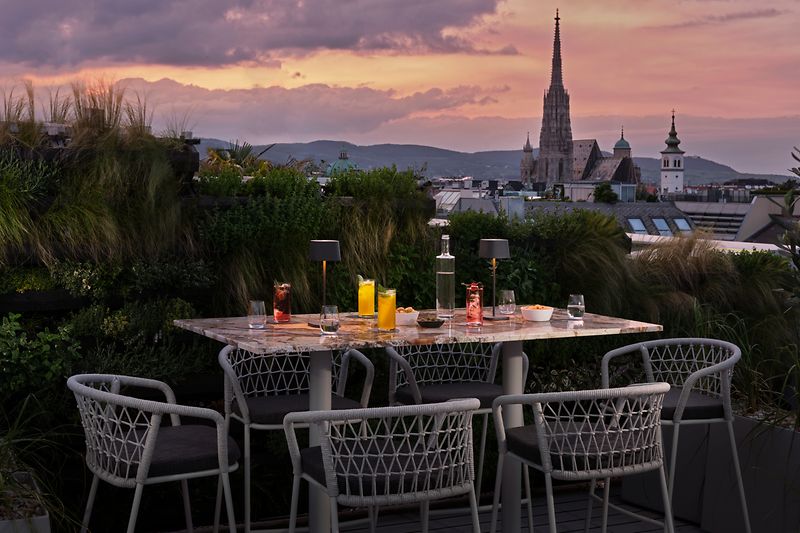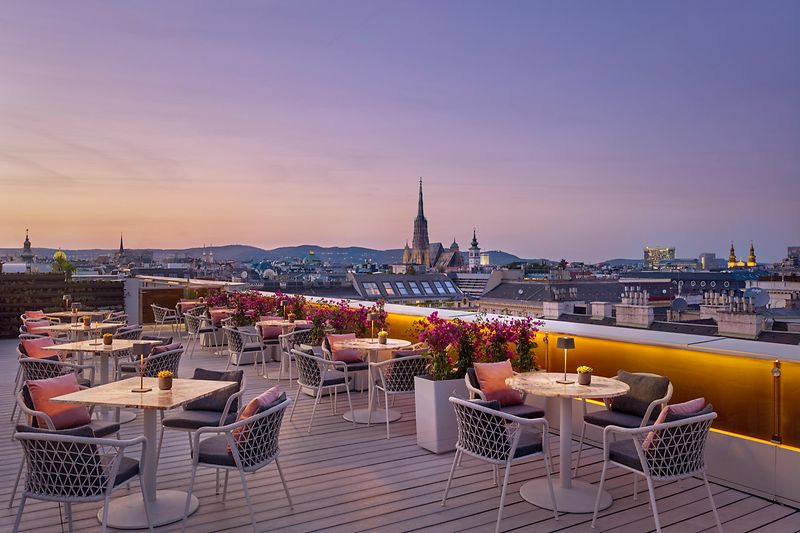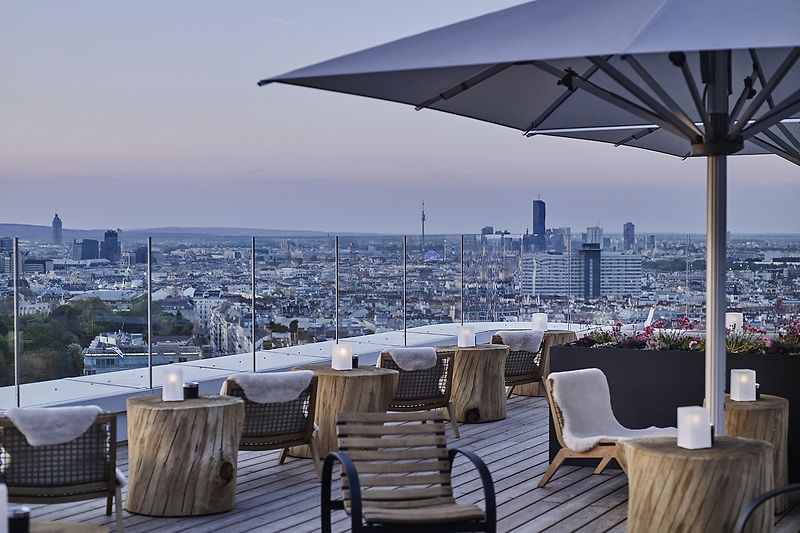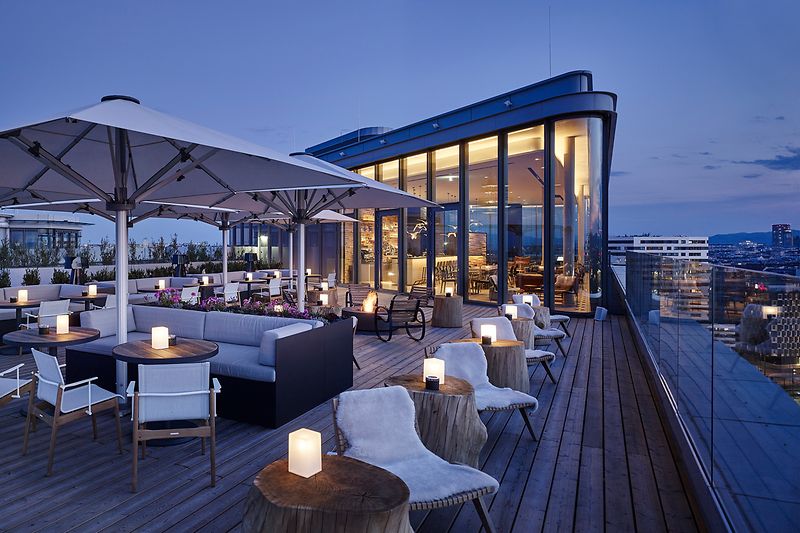 There is also an open-air bar on the roof of the Grand Hotel Wien, which even has the same name. The open-air Grand Rooftop-Bar offers the finest sushi dishes created by the award-winning restaurant Unkai along with classic cocktails. And a great view of Vienna's Ringstrasse boulevard.
Freiluft Grand Rooftop-Bar Grand Hotel Wien
Kärntner Ring 9

1010
Wien

Tu - Sa, 17:00 - 01:00

Bis 19. September 2020 / Until September 19, 2020
Back at street level is the HeldenBar. Surrounded by palms and orange trees, you can drink the cocktails here in front of the Weltmuseum Wien (World Museum Vienna), directly on Heldenplatz. Every Thursday from 5.00 pm, Picnic Italiano pulls in visitors with its Italian aperitivo flair, while the radio broadcaster Superfly plays host on Fridays with his DJ sessions. A pleasant lounge atmosphere. The venue closes at 11.00 pm, after which a Vespacar brings the visitors to the Lvdwig Bar.
HeldenBar Lounge & Cocktailbar
Heldenplatz/Weltmuseum

1010
Vienna

12.06.2020 to 30.09.2020
Th, 18:00 - 22:30
Fr, 18:00 - 22:30
Sa, 18:00 - 22:30

Only in good weather.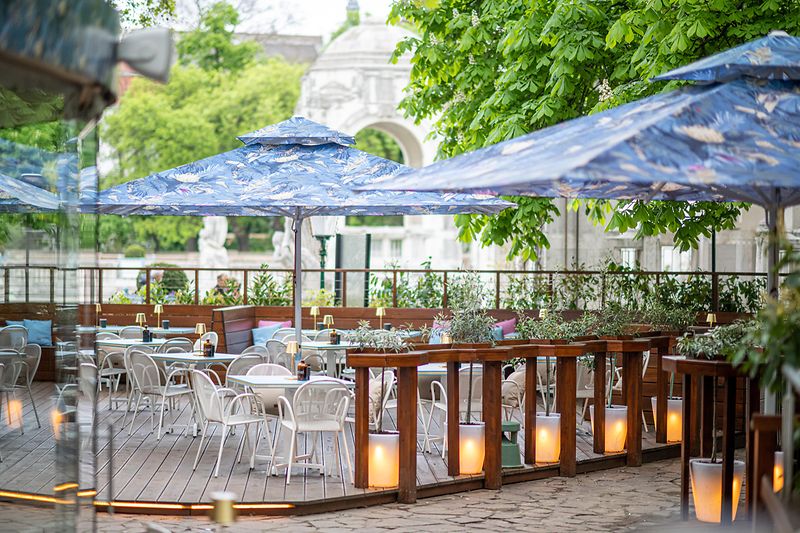 The Kleinod cocktail bars also operate a summer outlet in Vienna's Stadtpark. Wonderful cocktails and French cuisine create the perfect Mediterranean flair at the Kleinod Stadtgarten. Trees give shade against the summer heat, a relaxing and yet trendy green oasis in the middle of the city.
Kleinod Stadtgarten
Johannesgasse 33/Stadtpark

1010
Vienna

15.05 to 15 September
daily, 16:00 - 23:00

In good weather
Just a few steps further along, the bar scene also invites you to drink cocktails at Summer in the Park. Eleven selected bars present refreshing drinks here, which can be enjoyed on the terraces of the Kursalon Hübner and in its large gardens.
Summer in the Park Kursalon Hübner
Johannesgasse 33

1010
Vienna

26.06.2020 to 12.09.2020
Mo - Fr, 11:00 - 23:00
Sa - Su, 08:00 - 23:00
Heinz Kaiser, icon of Vienna's bar scene and owner of the cocktail bar Dino's Apothecary, is also operating a summer bar this year. Diagonally behind the Urania, nestled between ministries, is the Tintenbar, the perfect place for cocktails, grilled food and music.
Tintenbar
Vordere Zollamtstraße 3-1

1030
Vienna

Tu - Fr, 16:00 - 23:00
Sa, 16:00 - 01:00

Only in good weather.