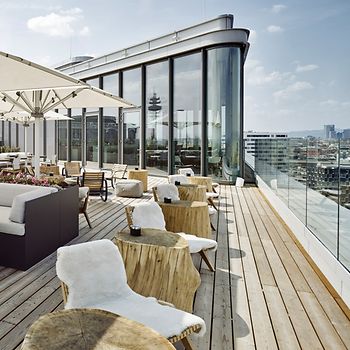 © Andaz Vienna Am Belvedere
The best open air bars
Rooftop bars are the hippest locations in summer. What could be better than to enjoy the view of Vienna over a good cocktail. Perfect for a sundowner is the Atmosphere Rooftop Bar on the roof of the Ritz-Carlton Vienna on Vienna's Ringstrasse. This year, celebrate the relaxed Californian lifestyle here with modern tiki cocktails, unusual sunshine food, and the right groove by the DJs from Radio Superfly – that's a summer evening straight out of a picture book.
Atmosphere Rooftop Bar The Ritz-Carlton, Vienna
Schubertring 5-7

1010
Vienna

May to September
daily, 15:00 - 22:00

In good weather
Another very different view of the city can be had from the Aurora Rooftop Bar at the Hotel Andaz Vienna Am Belvedere. Indeed, even the Belvedere can be seen from the cocktail bar on the 16th floor. Nordic design, Nordic bar food and unusual drinks surprise visitors here. New here for this year is a Veuve Clicquot Chandelier outdoor bar, which also serves inventive champagne creations.
Aurora Rooftop Bar Hotel Andaz Vienna Am Belvedere
Arsenalstraße 10

1100
Vienna

Mo - Fr, 16:00 - 22:00
Sa - Su, 09:00 - 22:00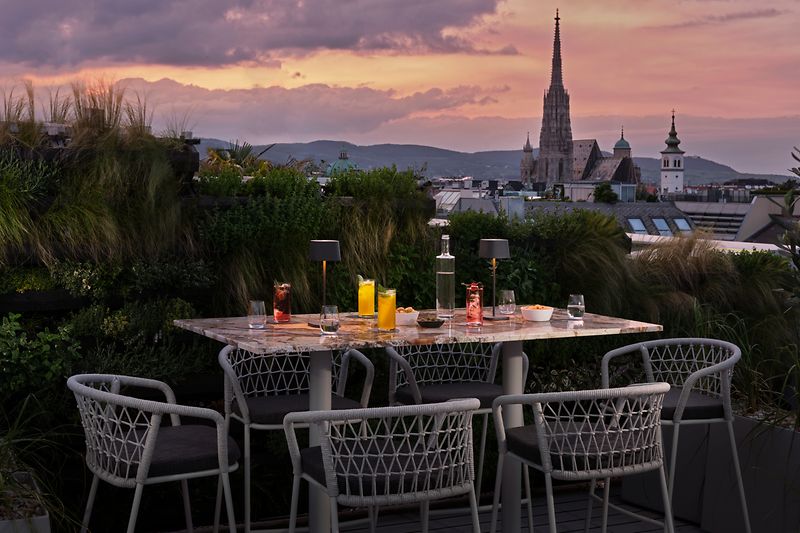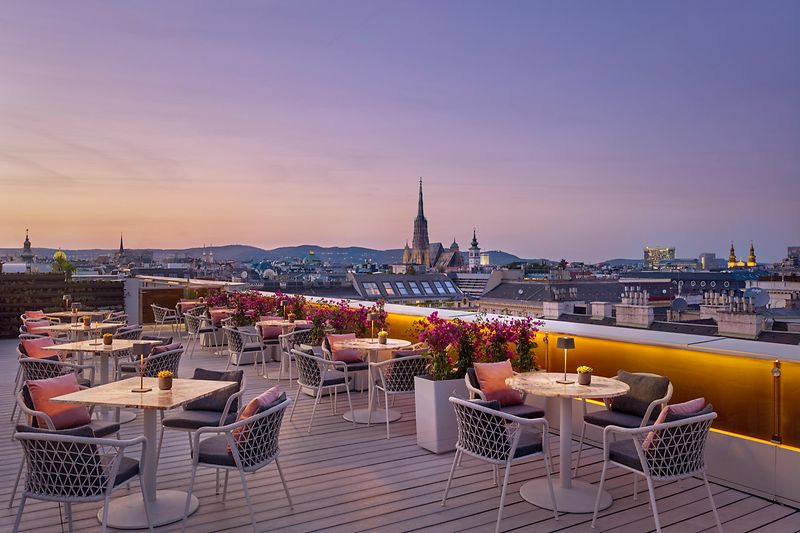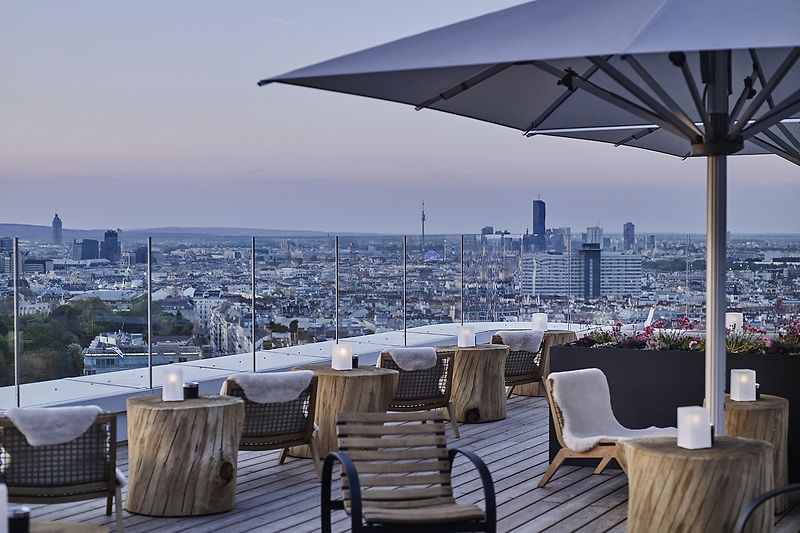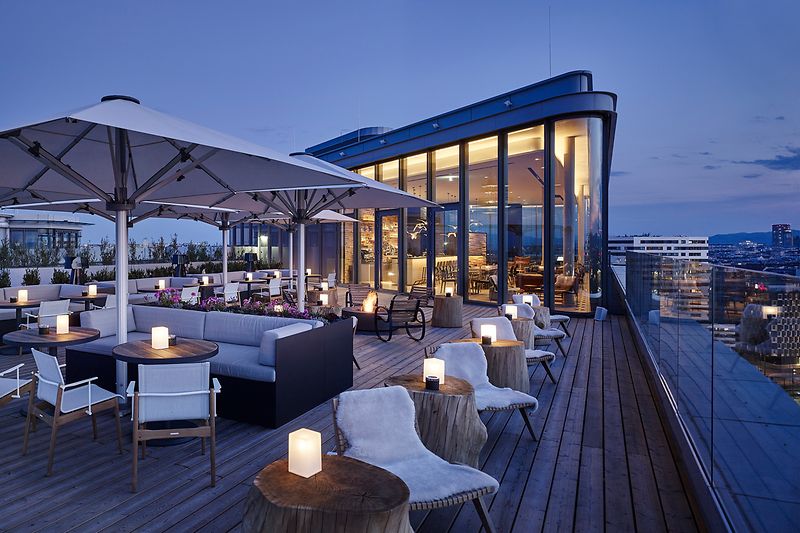 The Lamée Rooftop bar also exudes a pure summer mood. Guests here enjoy excellent cocktails, spritzer variations, and home-made lemonades with a fabulous view of St. Stephen's Cathedral. The colorful furniture also exudes a good mood.
Lamée Rooftop
Rotenturmstraße 15

1010
Vienna

May to September
Mo - Fr, 12:00 - 22:00
Sa - Su, 10:00 - 22:00
Vienna's most musical rooftop bar can be found on the roof of the Jaz in the City hotel in Mariafhilf, the 6th district. The entire hotel is dedicated to laid-back musical sounds – including the rooftop bar mariatrink, which has a 360-degree view of Vienna.
mariatrink Drinks & Views
Windmühlgasse 28

1060
Vienna

Tu - Th, 16:00 - 00:00
Fr, 16:00 - 01:00
Sa, 11:00 - 01:00
Back at street level is the HeldenBar. Surrounded by palms and orange trees, you can drink the cocktails here in front of the Weltmuseum Wien (World Museum Vienna), directly on Heldenplatz. A wide range of themed evenings provide variety throughout the summer.
HeldenBar Lounge & Cocktailbar
Heldenplatz/Weltmuseum

1010
Vienna

20 May 2021 to 30 September 2021
Tu, 15:00 - 22:00
Th - Sa, 15:00 - 23:00
Su, 12:00 - 19:00

Only in good weather.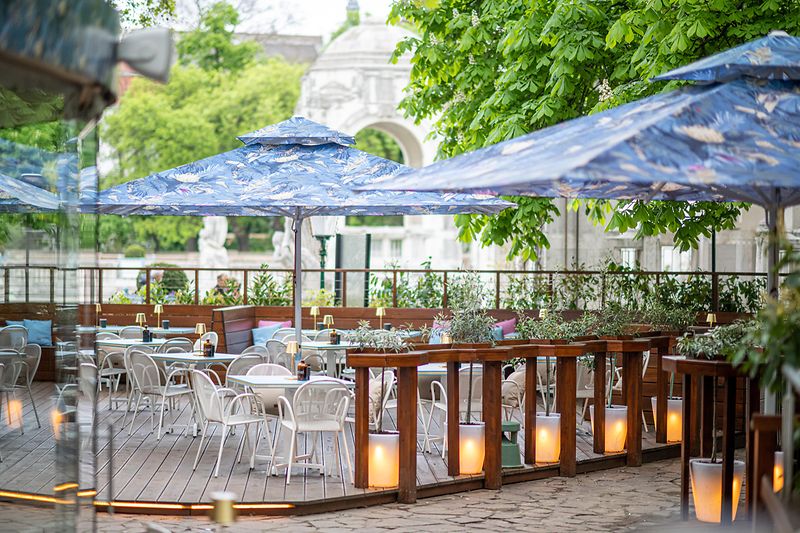 The Kleinod cocktail bars also operate a summer outlet in Vienna's Stadtpark. Wonderful cocktails and French cuisine create the perfect Mediterranean flair at the Kleinod Stadtgarten. Trees give shade against the summer heat, a relaxing and yet trendy green oasis in the middle of the city.
Kleinod Stadtgarten
Johannesgasse 33/Stadtpark

1010
Vienna

19 May to September
Mo - Sa, 16:00 - 00:00

In good weather
The Tintenbar is a surprising summer bar – it has a very urban situation, off the beaten track, diagonally behind the Urania and nestled between ministries. There are cocktails, highballs, grilled food, fish skewers, and music.
Tintenbar
Vordere Zollamtstraße 3-1

1030
Vienna

09 June to the end of September
We - Fr, 17:00 - 23:00
Sa, 18:00 - 00:00

Only in good weather.