Seven Breathtaking Vantage Points of Vienna
Every day, countless visitors and residents enjoy magnificent views of Vienna. The bustling streets suddenly feel far away. You can only hear a mild hum. In the truest sense, you're above it all. Many places in and around Vienna let you enjoy the city from above. We boldly ascended to the top and now present our list with seven incredible vantage points of Vienna.
Gloriette
The Gloriette is the jewel in Schönbrunn's palace garden and a brilliant vantage point. As if the view of the garden and castle weren't spectacular enough, it's hard to tear yourself away from the sight of Vienna. Just like Emperor Franz Joseph long ago, we love having breakfast and enjoying the view up here. The roll with apricot jam tastes even better up here.
Naturhistorisches Museum Vienna (Natural History Museum)
The Naturhistorisches Museum Vienna provides visitors insights into the formation of Earth and the evolution of animals. It also offers an interesting view of Vienna's Ringstrasse. The museum's roof terrace gives its visitors a unique perspective of Vienna's most famous buildings along Ringstrasse. It's the perfect way to round off an educational museum visit.
Cobenzl
The Cobenzl in the 19th district presents a spectacular view of Vienna and its vineyards. There is a particularly good view of the northern part of the city. The vantage point is directly on Vienna's Höhenstrasse, which makes it easy to reach by car or public bus. A walk through the surrounding vineyards is an ideal way to combine taking in a stunning view of Vienna with a trip to the countryside. If you want to take a cozy break at a wine tavern, you'll be sure to find one along the way.
Kahlenberg
A little further along Höhenstrasse, you can reach one of Vienna's most famous viewpoints on the 484-meter Kahlenberg. It's a popular destination for Viennese residents in particular, who visit it with their families or as a romantic setting on a first date. The Kahlenberg can also be accessed easily by car or public bus. Hikers can reach the Kahlenberg along a pleasant trail. You can find delicious refreshments in the café or the restaurant up here.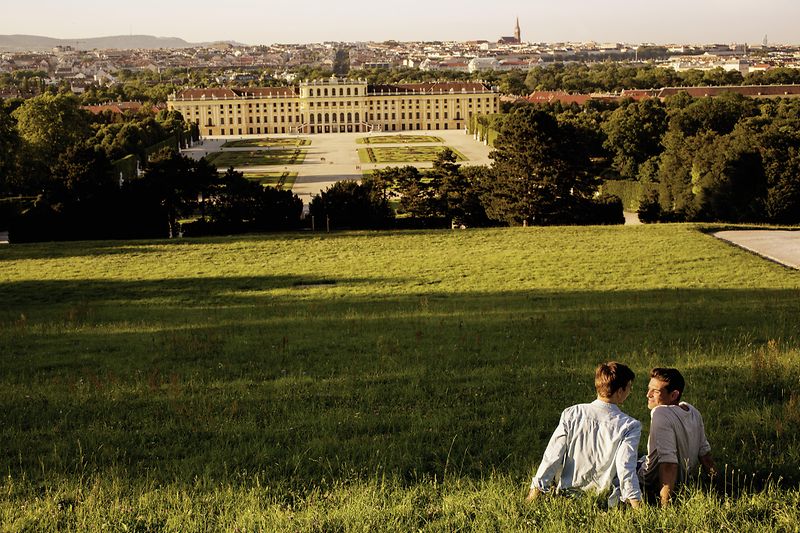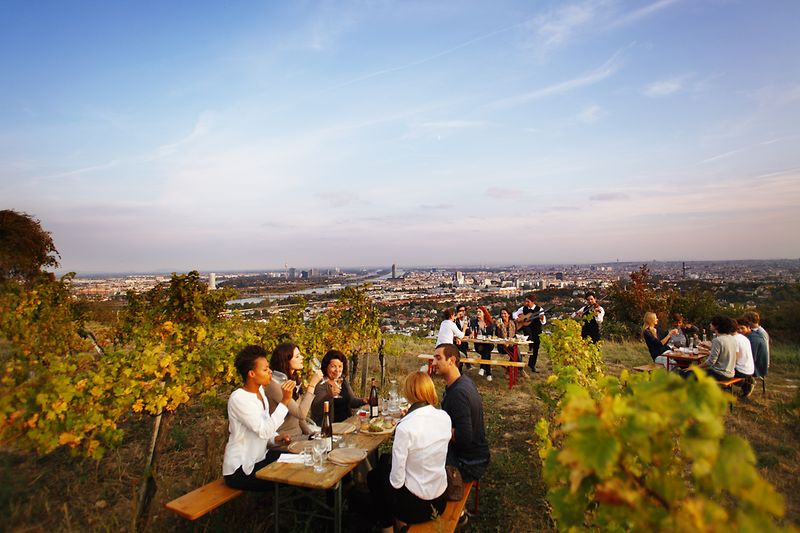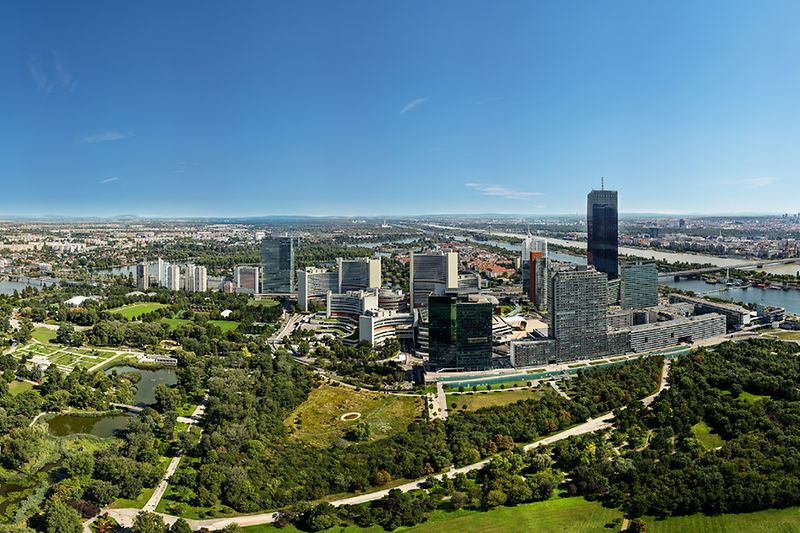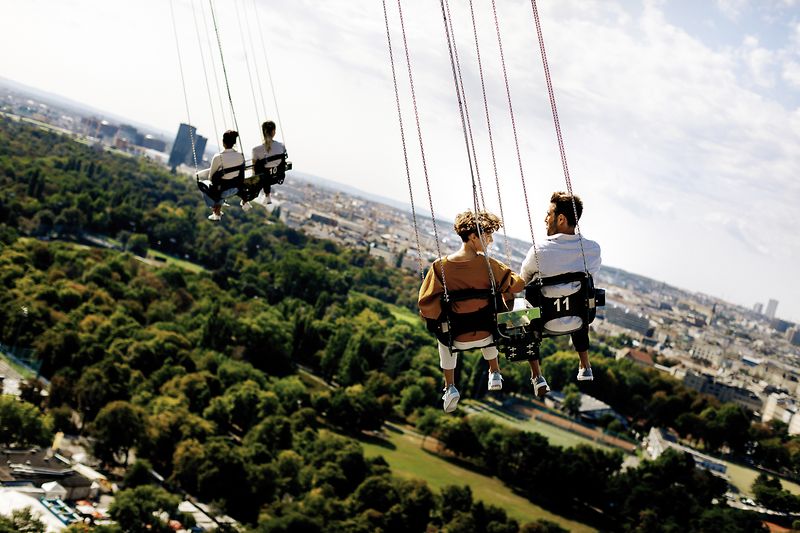 Danube Tower
The tallest building in Austria is north of the Danube in Vienna. The Danube Tower is 252 meters high and offers a sensational 360-degree view of Vienna and its surroundings. Two express elevators rapidly take us to the observation platform. We like to linger up here for a while to enjoy the fantastic view. The perfect combination of sights and tastes can also be found on the Danube Tower in the tower restaurant or the café. Not only are various adventure packages on offer, you can even get married up here. A good move – after all, who can say no with this view?
Jubiläumswarte
Here we look in vain for an express elevator. At Stadtwanderweg number 4, the path to the Viennese Jubiläumswarte, locatd on the Wilheminenberg in the 16th district, is far more gradual. Even if we follow the motto "the journey is the destination" and enjoy the hike for the wonderful nature all around, we can hardly wait for the spectacular sight. 31 meters above the ground, the observation platform gives us a perfect view of Vienna. On clear days, you can see all the way to the Leitha Mountains and Schneeberg.
Praterturm
Our seat hangs from the Praterturm by only a few thin chains. The tower rotates at 60 km/h and rises almost 100 meters in the air with us – it's definitely a thrill for the senses! If this wild ride doesn't entirely captivate you, you can enjoy the incredible view of the Vienna Prater and the rest of the city. The Praterturm is one of the most impressive attractions of the Prater and an absolutely worthy way to conclude our search for fantastic vantage points above Vienna.
Please note that cultural and leisure facilities such as amusement parks, theaters, concert halls, cinemas and cabarets, as well as all restaurants and hotels are currently closed due to Covid-19. Please inform yourself before visiting any institutions.
Gloriette
Schönbrunner Schlossstraße

1130
Vienna

Your benefit with the Vienna City Card:

-25%

Additional information on the offer: Standard ticket price: 4,5€

April to June
Viewing terrace daily from 9 a.m. - 6 p.m.
July to August
Viewing terrace daily from 9 a.m. - 7 p.m.
September
Viewing terrace daily from 9 a.m. - 6 p.m.
October
Viewing terrace daily from 9 a.m. - 5 p.m.

Further information
Comments

Main entrance: 25 steps to the ticket office, 76 steps to the terrace, door width: Terrace: 101 cm, ticket office: 81 cm, single revolving door, turnstile: 53 cm.

wheelchair-accessible restroom, approx. 50 m to the west in the park,
Naturhistorisches Museum Vienna (Natural History Museum)
Maria-Theresien-Platz

1010
Vienna

Cobenzl
Am Cobenzl

1190
Wien

Kahlenberg
Am Kahlenberg

1190
Vienna

Danube Tower
Donauturmplatz 1

1220
Vienna

Your benefit with the Vienna City Card:

-20%

Additional information on the offer: Standard ticket price: 14,50€

Mo, 10:00 - 00:00
Tu, 10:00 - 00:00
We, 10:00 - 00:00
Th, 10:00 - 00:00
Fr, 10:00 - 00:00
Sa, 10:00 - 00:00
Su, 10:00 - 00:00
on holidays, 10:00 - 00:00

last ascent 11:30 p.m.

Main entrance

(Doppelschwingtüre )
über Rampe
Ramp 100 cm long , 118 cm wide , 10 cm high

Car parks Main entrance

Parking spaces for people with disabilities

Elevator available
Further information
Comments

Observation terrace (at 150 m height) wheelchair-accessible via elevator (max. 3 wheelchairs at once). Special ramps (width: 99 cm, height: 25 cm) to allow wheelchair users to enjoy the view over Vienna. According to the building license, wheelchairs are prohibited on all other floors for safety reasons (escape routes). By way of compensation, wheelchair users can ride to the viewing terrace (150 m) for free.

Central floor (165 m): 25 steps up to the restaurant (170 m), 25 steps down to the café (160 m, not accessible for wheelchair users). Wheelchair users only with escort (1 escort per wheelchair user at no charge). No wheelchair-accessible restroom in the tower.
Jubiläumswarte
Johann-Staud-Straße 80

1160
Vienna

Praterturm
Wiener Prater 59

1020
Wien